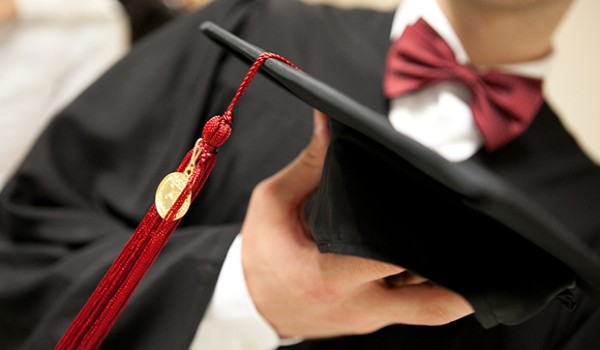 Hearty congratulations to the Pierce Class of 2016!
After a lot of hard work, our students accomplished a 97.9% success rate at this year's Panhellenic school exams, gaining entry into prestigious universities, colleges, and institutes in Greece and abroad. Impressively, 17.5% of the graduating class scored over 18,000 points on the exams, which is three times the national average!
The majority of the Class of 2016 graduates have chosen to continue their studies at a university level, with almost 30% of them enrolled for undergraduate studies at highly competitive universities, including the National Technical University of Athens as well as several Engineering, Medical, and Law schools.
25 of our latest Pierce graduates will carry on being an active part of the ACG family by studying solely at Deree, or by taking part in the Parallel Studies program and combining their Deree bachelor's degree with studies at a Greek public university.
Over 40 graduates were accepted to leading universities abroad, several of them with a partial or full scholarship!
United States
Boston University (Chemistry)
Dickinson College (Biology)
University of Evansville (Architecture)
University of Houston (Chemistry)
University of Illinois at Chicago (Chemistry)
University of Massachusetts Amherst (Chemistry)
The University of Minnesota Twin Cities (Engineering)
New Jersey Institute of Technology (Finance)
Northeastern University (Chemistry)
Penn State University (Chemistry)
Canada
University of British Columbia (Biology)
Simon Fraser University (Biology)
University of Toronto (Chemistry)
United Kingdom
The University of Aberdeen (Biology)
Birkbeck, University of London (Business Administration)
The University of Birmingham (Biology)
University of Bristol (Engineering)
Brunel University London (Business Administration)
Cardiff University (Engineering)
City University London (Finance)
Durham University (Law)
The University of Essex (Political Sciences)
Goldsmiths, University of London (Psychology)
University of Hertfordshire (Mathematics)
Imperial College London (Physics)
The University of Kent (Political Sciences)
Lancaster University (Law, Political Sciences)
University of Leicester (Ancient & Medieval History)
University of Leeds (Engineering)
The University of Manchester (Business Administration)
Queen Mary University of London (Law, Finance)
The University of Sheffield (Engineering)
SOAS University of London (Business Administration)
University of Southampton (Engineering, Pedagogy)
The University of Strathclyde (Mathematics)
The University of Sunderland (Pharmacy)
University of Surrey (Law, Biology)
University of Sussex (Political Science, Philosophy, Computer Science)
The University of York (Pedagogy)
Netherlands
Amsterdam Business School (Business Administration)
Erasmus University (Business Administration)
Czech Republic
Charles University (Dentistry)
We are proud of each and every one of our newest graduates: for trying their best, and for having come this far, thanks to their commitment, hard work, passion, and talent. We wish them all the best on this exciting new chapter in life!