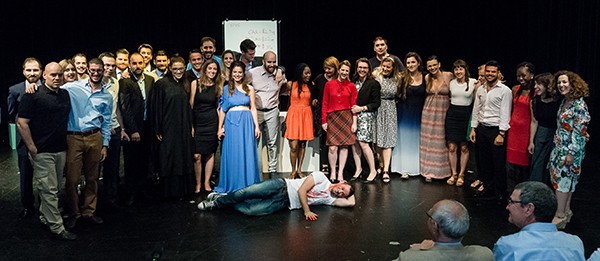 The final performance of Alba's capstone MBA course "Management Acts: A Theatrical Integration" took place at the Deree Black Box Theater on July 15.
The 3 plays – Creative Deviance, The Paradox, and Decoding History – have been conceived, written, produced, and performed by Alba's MBA students. During their 4-month journey in the course, they navigated the uncharted waters of theatrical production, balanced artistic and managerial logic, and discovered a "brave new world!"
The course challenges traditional MBA education by introducing a theatrical angle. It is a unique platform that brings together several courses such as Leadership Development, Creativity & Innovation, Business Ethics, Leading & Managing Change, Psychoanalyzing organizations and more, in a final act of managerial dilemmas, struggles, revelations, insights and key decisions!
During the 4 months of the course, the students experienced acting, script-writing, directing, and production management, giving them the opportunity to exercise creative and paradoxical leadership, show ambidexterity, manage collaborative tensions in a creative-industry setting, gain new insights on managerial actions and decisions, and develop further as phronetic leaders.
You can see the performance on YouTube, and find more photos here.