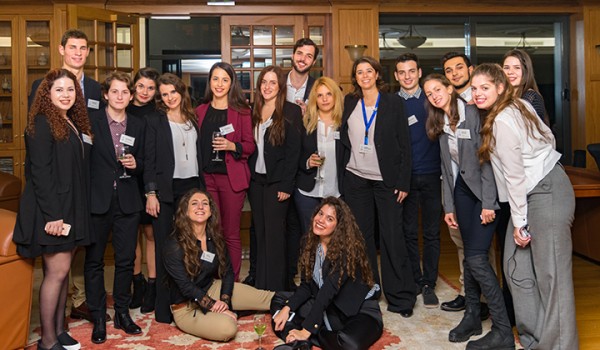 Over 70 leading companies were on campus for this year's Career Days, organized by the Office of Career Services, November 7–10. Career Days have been taking place for more than 41 years, in an effort to help students connect with the job market and gain the valuable experience of a job interview.
"I got a job interview from a real estate company –which is my passion– with whom I had collaborated with in the context of a course I took. I have already booked an appointment for the next interview!" said Stavros, a senior Management student. "Career Days prepare you so that you can conduct proper research about the companies you're interested in, be calm during interviews, and so that you can answer questions to the best of your ability" he added, stressing the importance of such opportunities, including company presentations, and varied workshops.
International and Greek companies from many different sectors such as business, consumer products, and the non-profit sector were represented this year, including:
AB Vasilopoulos, Adecco HR, Aegean, Aldemar Resorts, Alexander Moore, Anders Alf Wennesland (Island Tribe), Asap Athens, Athenian Brewery, Atlantica Hotels and Resorts, Career In Progress, Celestino, Celestyal Cruises, ChampionsId.com, Coca-Cola 3E, Colliers International Hellas, Data Communication, EKKA Cars, Famar, FF group, General Mills Hellas, Global Vista Advisors, Greek Environmental & Energy Network (Green), Henkel Hellas, Hertz, Hewlett-Packard Enterprise, Hill International, IBM Hellas, Interamerican, Ison Psychometrica, Johnson & Johnson Consumer, JR Technologies, KPMG, Leroy Merlin, Libra Group, Lidl Hellas, L'Oreal, Lycsac, ManpowerGroup Greece, Maris Polymers, Mathios Refractories, Matrix Insurance & Reinsurance Brokers, Media Saturn Hellas, MetLife, Naftemporiki, Nestlé, Octane Management Consultants, OPAP, Oriflame Sweden, OTE Telecommunications, Peoplecert Group, PepsiCo, Pharmathen, Plaisio Computers, Porto Carras Grand Resort, Power Health Hellas, PRAKSIS, Prolepsis Institute of Preventive Medicine, Environmental & Occupational Health, Public Retail World, Randstad, Resoul, Robert Bosch, Save the Children International, The Swatch Group Greece, Thrace Group, ΤΙΤΑΝ Group, TNT Greece, Toyota Hellas, TUI Group, V. Kafkas, V+O Communication, Variety Cruises, WebHelp Greece, Wind Hellas, Workable, Würth Hellas, Xerox Hellas, ZuluTrade.
We were happy to welcome back on campus over 35 alumni representing their companies:
Melina Kanaki, D '94 – Executive Director @ Hill International
Nikos Yannoulatos, D '90 – Managing Partner @ Cornerstone
Angeliki Sereti, P '74, D '78 – Managing Director @ Seretis & Associates
Tina Andosoglou, D '14 – Sales & Marketing @ Variety Cruises
Aliki Skandara, D '04 – Senior Valuer & Hospitality Services MRICS @ Colliers International
Nicky Nikolopoulou, D '05 – Executive Support Associate|Advisory & Valuation Department @ Colliers International
Thaleia Vouvonikou, D '01 – HR Manager @ Henkel Hellas
Konstantinia Chatzipanagiotou, D '99 – HR Coordinator @ Henkel Hellas
Athena Maris, D '94 – Personnel & Finance Director @ Maris Polymers SA
Panagiotis Manos, D '14 – IT Assistant @ Matrix Insurance & Reinsurance Brokers SA
Argyro Kanavou, D '97 – Senior Director @ Oriflame
George Drossos, D '94 – HR Director @ Pharmathen
Ariadne Lada, D '96 ­– Program Manager, Strategy & Communication, Business Coaching Center @ Praksis
Nefeli Pavlidi, D '12 – Customer Management @ WÜRTH
Despina Ioannidou, D '87 – HR Delivery Manager / Compensation & Benefits @ IBM
Mary Gaitanarou, P '10, D '16 – Social Responsibility Assistant @ Libra Group
Vassilis Gkoumas, P '12 – Social Responsibility Assistant @ Libra Group
Irene Dimou, D '99 – Recruitment Executive @ L'Oreal
Yannis Papastratigakis, D '01 – Business Development Associate @ Naftemporiki
Sylvia Iliopoulou, D '11 – HR Assistant @ TNT
Moschoula Kramvousanou, D '08 – Sales Manager @ Zulu Trade
Aikaterini Gatzogianni, D '11 – HR Associate @ AB Vassilopoulos
Elena Papadaki, D '05 – HR Officer @ Aegean Airlines
Georgia Xirokosta, D '14 –Commercial Department @ Green SA
Eirini Bena, D '08 – Market Analyst @ ISON Psychometrica
Panagiotis Felouris, D '01 – Unit Manager @ Interamerican
Konstantinos Athanasopoulos, D '02 – Sales Office Coordinator @ Interamerican
Danny Covo, D '15 – Consultant @ Octane Management Consultants
Dimitris Megremis, D '96 ­– Recruiter @ OTE Telecommunications SA
Alkistis Kyza, D '06 – Recruiter @ OTE Telecommunications SA
Anastasia Spyrou, D '01 – HR Recruiter @ Peoplecert Group
Eva Askepidou, D '01 – HR Manager @ Resoul
Nektaria Manola, D '91 – Strategic Business Unit Director @ Resoul
Tonia Gogou, D '95 – General Manager @ V+O Communication
Maria Mougaraki, D '02 – Head of HR, Human Resources Manager @ Webhelp Greece
Nancy Mathioudaki, D '93 – Partner / Global FMCG Sector Leader @ Stanton Chase
Haris Konstantinidis, D '03 – Senior Career Transition Consultant @ Adecco
Vicky Dimopoulou, D'02 – HR & Gen. Services Specialist @ Johnson & Johnson
Career Days is one of many initiatives organized by the Office of Career Services throughout the academic year, to broaden professional opportunities offered to students, and connect with the job market and companies that share ACG's vision to support youth employment. The initiative is supported by the Office of Development and Alumni Relations, forging a strong link between companies, organizations, and ACG alumni. Each year it is inspiring to see so many of our students actively engaging in interviews and workshops, and it is moving to see how many of our alumni come back on campus to support the new generation by offering them such meaningful experiences– Thank You!