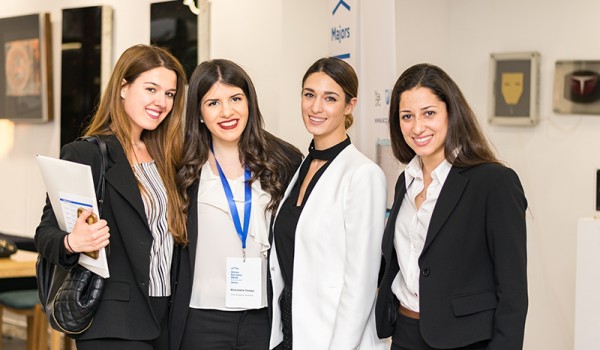 In March 2017, the academic societies of the Deree School of Business organized the 12th Business Week forum!
This year's theme was Crossing Disciplines and featured speeches and workshops to discuss how education and business need to go beyond the strict boundaries of each discipline, and collaborate in order to achieve synergies and creativity in solutions.
The keynote speaker of the 2017 Business Week was 'serial entrepreneur' Apostolos Apostolakis, a leading example of the power of crossing disciplines, as he combined his engineering background with business, and has now founded and funded businesses with a broad spectrum of activities, including: Taxibeat, DoctorAnytime, e-table, and Nannuka… to name a few! Apostolakis now holds the position of Partner and Co-Founder at Venture Friends.
We were also honored to welcome back on campus so many of our alumni as speakers:
Spiros Mavrogalos, Deree '91 – BoD Member, Alpha Bank, BoD Vice President, Europe Insurance
John Vasilakos, Deree '96 – Chief Operating Officer, Dixons Carphone South Europe
Margarita Manousou, Pierce '76 – Editor-in-chief, Touristiki Agora
Thodoris Sotiriou, Deree '16 – Co-founder and Product Leader, Parky
Maria-Zoe Papaioannou, Deree '14 – Co-founder and Business Lead, Parky
Harry Seraskeris, Deree '95, '97 – Business Development Executive, CA South Eastern Europe
Basil Sudborough, Alba '03 – Marketing Manager, Export Manager, USA and Canada, Selonda
Katerina Nikolaou, Deree '00 – General Secretary, Hellenic Institute of Marketing (EIM)
The Deree Business Week symposium is organized each spring to bring together students and professionals. Under the guidance of the Dean of the School of Business and a steering committee of professors, students have the opportunity to work in teams and create the event's concept and theme, invite speakers, create a marketing campaign, and organize every detail of the event. This gives our students the opportunity to develop and practice their skills, work in a collaborative atmosphere, and be creative, as well as network with professionals and academics.
The event was attended by hundreds of students and received mass media and social media attention, with the highlight being the promotional videos created by students that were viewed by more than 7,000 people!
Keynote speaker Apostolos Apostolakis with School of Business Dean Annie Triantafillou, students leading the organizing teams, and the Steering Committee professors.
Apostolos Apostolakis delivering the keynote speech
Dean Triantafillou awards students for their commitment and contribution to the 2017 Business Week