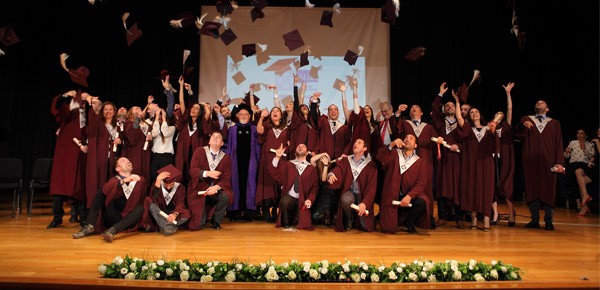 An exciting month for ACG's ALBA Graduate Business School, as we welcome the 280 graduates joining our alumni network. Further cause for celebration, is the news that our MBA program just received official accreditation, and last but not least, read on to find out about some of our top alumni employers!
Graduation Ceremony 2015: Congratulations to our 280 New Alumni!
This year we were pleased to present 280 students with their Master's degrees, who graduated from a total of 12 MBA and MSc programs. The 2015 ALBA Graduation Ceremony was held at the PIERCE College Theater on Saturday December 5.
The Ceremony's keynote speech was given by Mr. George Papadimitriou, Partner at EY, followed by speeches  by Mrs. Evi Kelepouri, MBA alumna, on behalf of the ALBA Alumni Association, and by this years' valedictorian, Ms. Foteini Spiliopoulou from the MSc in Tourism Management.
The valedictorian said, "I was raised with the notion that in order to be successful in life you have to do what you love; and, if you can't do that, at least find things to love in what it is you actually do! And this is why I felt at home here at ALBA; because people here understand that education should be enjoyable and it should be applicable."
The Dean and the Academic Directors of the programs conferred the degrees, and the ALBA Resident Faculty was there to celebrate our newest graduates.
Congratulations to the graduating students, and welcome to our alumni family!
ALBA Executive MBA now officially accredited
Further cause for celebration, is the news that our Executive MBA program just received official accreditation by the Association of MBAs (AMBA).
Our EMBA is a program for senior and upper-level executives with achievement record, leadership potential, and intellectual curiosity. It is offered in modular, weekend format over 22 months, with visiting faculty coming from the premier business schools in Europe and the US (such as Harvard, Wharton, LBS, INSEAD, and more) and is characterized by an unparalleled depth in Leadership and Innovation. An exclusive Program presentation was held on November 25 at the ALBA facilities.
AMBA accreditation represents the highest standard of achievement in graduate business education.
Top ALBA Alumni Employers
Google Greece visited the campus on November 20 and presented their Digital Talents Academy, in an effort to attract ALBA talent. Google currently employs 5 ALBA alumni in 3 different countries: England, Singapore and Greece.
AXA Greece also presented our students with career opportunities within their company, on their visit to ALBA on November 25. AXA Greece is another top ALBA alumni employer as 15 of our alumni are currently working there. In fact, two alumni were among the presenters: Vassilios Toulias, Transformation Manager, MBA 2010 and Evgenios Petoumenos, Communication & Corporate Responsibility, MBA 2015.
Hear, hear for #alumniunusual!