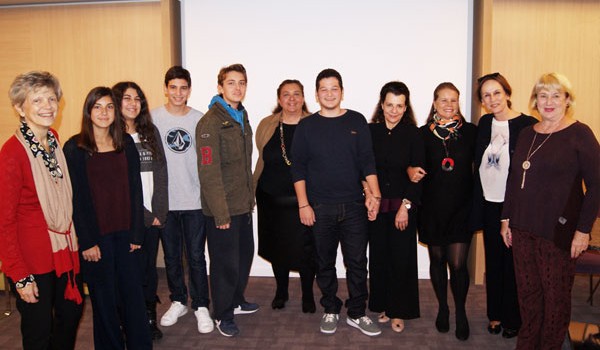 The work of The American College of Greece simply could not take place without the continued support of our donors and benefactors. A wonderful example of this support is the PIERCE 1973 Class Gift. On Friday, November 13, our supporters met with students who have benefited directly from their generous initiatives.
In 2013, the PIERCE Class of 1973 transformed their reunion into an original and inspirational fundraiser at the Acropolis Museum, with proceeds going to the PIERCE Scholarship Fund.
The Class of '73 was the first to celebrate their reunion by giving back and raising funds to support future students of their alma mater. Their generosity will be their legacy, as will their call to action; they not only put together the first Class Gift in the College's history, but also called on all PIERCE classes to join the cause of raising funds for scholarships, and in doing so, inspired current students and alumni alike with their spirit of service.
PIERCE Class of 1973 Fundraising Committee
Ivy Nanopoulou (PIERCE '73) initiated the idea of commemorating the 40-year class celebration with something even greater than a Class Gift – which her fellow alumni embraced – as many of them benefited first hand from the education and financial aid provided by PIERCE. The class hopes their example will be the beginning of a tradition of generational giving that will take place annually, as other classes join them in their annual drive.
"We should always remember that our class made a wonderful start in accordance with the school's motto 'Non ministrari sed ministrare' – 'Not to be served, but to serve' – and we hope that other classes will follow," said alumna Aspasia Michalakis (PIERCE '73).
Meeting the Students
On November 13, Nasia Papamanolis, Tina Papadopoulou, Ivy Nanopoulou, Cathy Parthemos–Paraschi, and Fani Dimou, members of the Fundraising Organizing Committee, had the opportunity to meet and get to know PIERCE Gymnasium and Lyceum students, Maria–Eleni Chalakateva, Eleni Kouini, Panagiotis Parperidis, Emmanuel Giannakis, and Georgios–Theocharis Palaiologos–Vagenas.
Alumna Nasia Papamanolis said, "We wanted to help our family, and for us, PIERCE is family."
The students and alumni were joined by PIERCE Principal Olga E. Julius, Lyceum Director George Vakerlis, and Gymnasium Director Ioannis Kladas, and by Maria Laina, Mary–Irene Triantafillou, Natassa Rangou, and Evangelia Katsimardou from the Office of Development & Alumni Relations.
ACG is grateful for the generosity of the PIERCE Class of 1973 and all alumni involved in the scholarship fundraising drive.
For more information on the 2013 PIERCE Class of '73 fundraising event, please click here.