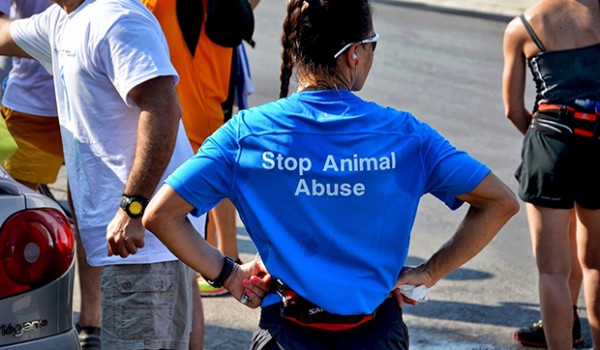 In July 2012, on one of the hottest days of the Greek summer, a group of animal lovers including our alumna Chrisanthy Efstathiou (D '01), ran and cycled all the way from Marathon to Athens. The team's mission was to shed light on the painfully difficult and troubled life of stray, abused, and neglected cats and dogs in Greece.
The 42km run has since been established as the annual Penny Marathon, in memory of Penny, a stray dog whose life was cut short. The marathon's purpose is three-fold: to promote adoption and neutering programs, and to educate people about the proper way to behave towards cats and dogs; but the Penny Marathon is also "a way to honor the work of volunteers who step up – where inhumane or apathetic systems fail – to save the lives of these animals."
Since then, the worthy cause has seen an annual increase in engagement, attendance, and awareness. In 2013, over 70 people participated in the event, with marathon runs taking place in both Athens and Sydney, Australia. The following year, the 3rd Penny Marathon took place in both cities with over 100 runners taking part (including dogs!), cyclists, and a swimmer.
In 2015, over 300 people and dogs participated in the 4th Penny Marathon, held in Sydney, Athens, Salamina, and Kalamata. Evolving once again, that year saw four paddle-boarders covering 21 kilometers toward the finish line, where they joined the runners and cyclists.
This year, the 5th Penny Marathon was organized in Athens, Salamina, Kalamata, Crete, and Sydney on Sunday, July 10, with almost 500 runners, cyclists, and dogs showing up to support this worthy cause!
Find out more information on the official Penny Marathon website.
Join over 9,000 followers by liking the Penny Marathon Facebook page, and donate to support the volunteers, and the strays.