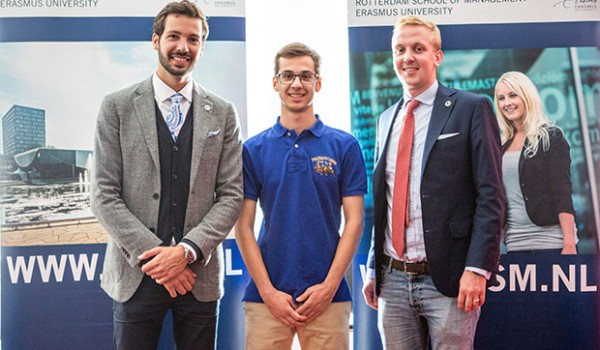 Nikolas Savvakis, a Pierce graduate of the Class of 2016, has recently been awarded the Entrepreneurial Spirit Scholarship (ESS) at the Rotterdam School of Management (RSM) of the Erasmus University. The scholarship is funded by two alumni of the BSc program in International Business Administration at the RSM, and is intended for prospective students "with a truly entrepreneurial spirit" who, due to financial restrictions, would otherwise be unable to attend the program.
Recently introduced, the ESS was awarded for the first time; after a challenging procedure, our Pierce alumnus was chosen among a large number of applicants. The scholarship provides full tuition and fees coverage for three years, while it also recognizes the recipient as an Outstanding Ambassador of the Rotterdam School of Management.
The ESS further includes entrepreneurial and marketing initiatives for the recipients, while it also aims to ensure that the recipients will remain involved with the IBA program after graduation, as mentors to future IBA students for example. Likewise, the founders of the scholarship will mentor our graduate Nikolas throughout his IBA studies.
Nikolas's accomplishment was not a surprise for the Pierce community. He has been known among his peers and to his teachers for his involvement and collective spirit during his Pierce days. Back in June, at the Award Night 2016, Nikolas received a number of awards, including the Flora Haniotou for his significant contribution to society through the school community.