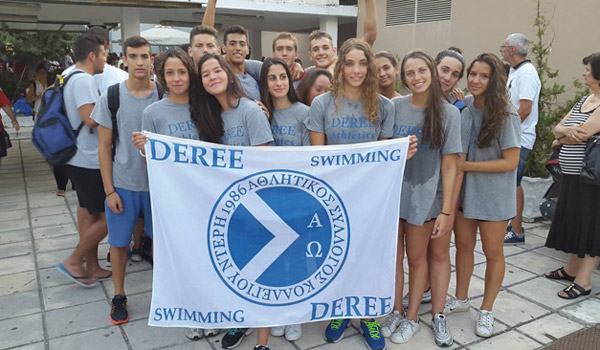 National Juniors Swimming Championship
Our team's season came to an impressive close with its participation in the National Juniors Championship in Thessaloniki, July 17-19, in which 900 athletes from 130 clubs from all over Greece participated.
Xanthi Mitsakou, PIERCE swim scholarship recipient, Lefteris Manolarakis and Katerina Argyrokastriti won seven medals (1 gold, 3 silver, 3 bronze), bringing the total number of medals won by our team in the competition to 12 (3 gold, 5 silver, 4 bronze).
In the overall rating, the DEREE Athletic Club came in 11th place, and took 7th place in the girl's category among the 138 Athletic Clubs which competed in the Championship.
Congratulations to all the members of our team on a successful season!!
---
National U-14 Swimming Championship
Our swim team made an impressive appearance at the U-14 Championships held in Patra, July 10-12, which hosted 120 clubs and 850 swimmers from all parts of Greece.
Two of our PIERCE scholarship students excelled in this competition by participating in seven finals and winning five medals. Zoe Mitsakou (1 gold, 1 bronze) and Chrysanthi Sarasiti (1 gold, 2 silver) are proof that our swim team has a promising and bright future.