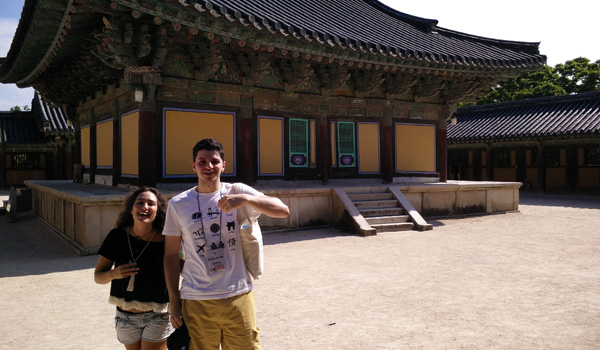 DEREE students visit the
"Land of the morning Sun"
DEREE-ACG students have the opportunity to study abroad for a semester as part of their undergraduate studies and broaden their educational experience by spending a semester or a summer session in another country as exchange students at a DEREE-ACG partner institution.
Currently DEREE-ACG students are studying abroad in Florida, Hamburg (Germany), London (UK), Nantes (France), New York, San Francisco (USA), Tilburg (Netherlands), and Belo Horizonte (Brazil).
Dimitris Asproulis is one of our students who spent his summer in South Korea. Dimitris experienced a unique opportunity that many would wish for.
"I really feel thankful to have participated in this amazing journey in South Korea," he said. "I had the chance to meet and connect with many great people from all around the world and got to know the interesting culture of this land. South Korea helped me learn a lot about the world, others and myself and I am looking forward to sharing this knowledge. I would like to express my gratitude to those who made this trip and experience a reality: my fully-supportive family, my college DEREE – The American College of Greece that offers all these great opportunities and the host the Pukyong National University that welcomed us. Last, but not least, all these great, interesting people I meaningfully connected with and I am proud.
Korea, you will always be remembered!"