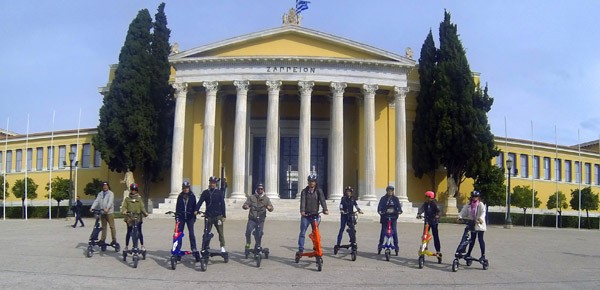 DEREE' 12 graduate Nikos Sarafidis and his brother Konstantinos are transforming the way we experience our city, and the way visitors tour Athens. Scooterise is a Greek company founded on a strong commitment to sustainable transportation products and services. The company supports and engages with the local and international community, through an innovative suite of services including sales, rentals, tours and B2B transportation solutions.
The American College of Greece took part in a 2-hour Scooterise tour on Saturday, October 31 in downtown Athens. Representatives from the ACG offices of Development & Alumni Relations, and College Events, had the wonderful opportunity to sight-see and explore downtown areas such as the Acropolis, Zappeion, the National Garden, Kalimarmaro, Plaka, and Monastiraki.
The company makes sure to choose routes which are especially safe, ensuring that the ride itself is enjoyable, while the riders visit the most beautiful and historically significant parts of Athens.
We congratulate our alumnus and his brother on creating a wonderfully different way of experiencing our city, and on being chosen as one of the top 3 of 57 outdoor activities offered in Athens, as voted by TripAdvisor.
For more information on Scooterise please click here.