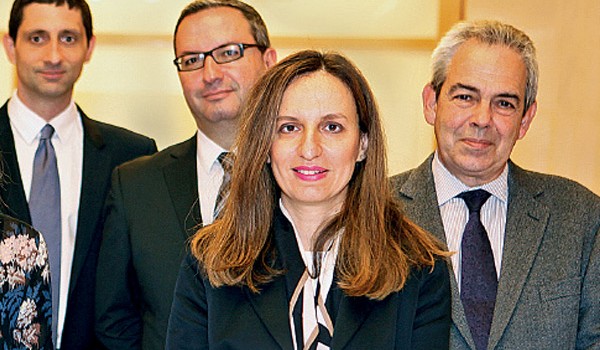 Intro/Summary
MARTHA KESISOGLOU, graduated from DEREE in 1999 with a Bachelor of Science in Marketing Management, and continued her education with graduate studies in Crisis Communication.
Martha is now Manager, PR & CSR and Marketing Communication Wholesale Banking at Eurobank Group.  She supervises marketing and communication strategy for the Group's corporate & investment banking, wealth management and capital markets, as well as Corporate Social Responsibility and Public Relations.
Our graduate also supervises the Contest for Applied Research and Innovation, "Greece Innovates!" on behalf of Eurobank and in cooperation with SEV, and is a member of the "egg – enter•grow•go"  steering committee.  Previously, Martha served as Head of Foreign Press Office, and Head of Group Internal Communications for 1 year in Piraeus Bank. She also worked in Millennium Bank (previously Nova Bank) for 14 years as Communication Director, and 7 years in Athens International Airport (AIA) as Head of Press Office, Advertising and Corporate Affairs.
Interview
Q.: What do you believe are some of the most important skills one needs to make it in your line of work?
Positive attitude, professionalism, analytic and synthetic skills, and a clear head.
Team spirit and stress tolerance are paramount, as well as the ability to think outside the box, and the willingness to learn and to share knowledge: our profession (marketing & communication) is all about being open to new trends and able to adapt to change, but it is also routed in hard data, a clear strategy, and excellent planning skills.
All of the above are key ingredients of successful, high-functioning teams.

Q.: What advice would you give to young women who are in business?
Be strong. Be determined. Be aware that the glass ceiling is not a myth but a challenge that is up to you to overcome. Always remember that women are often blessed with empathy and soft skills, which combined with academic excellence and professional know-how, are a recipe for success.
Don't let yourself be patronized and don't be tempted to patronize either; aspire to be a mentor.
Be a team player: it's the best way to become a leader.
Finally, the most important piece of advice, after many years of a highly demanding career, is to achieve a balance between personal and professional life, not only as a young professional, but also once a woman gets married and enters the stage of a full nest. This is a delicate area for women in business, who tend to be overachievers when single and find it hard to keep the same pace once they become mothers; however, one should keep in mind that with planning and prioritization, balance can be achieved.

Q.: What advice would you give young people who are struggling to find work in Greece?
What always works is to have a career path plan, visualizing oneself as a professional over a long-term period.   A career is not about what you have studied but about who you are: a people-person will most likely be very unhappy doing a back-office job, as well as a data-person will probably never excel in sales.
Once you find what you are good at as a person and combine this with your academic background, be bold and pitch for job positions in companies that will allow you to learn from, even if it is for an intern job. Many times, a great intern becomes the next promising recruitment.
Research your field, make personalized applications with cover letters, and never lose heart.   Be flexible and have clear targets. And of course, utilize the DEREE network as well as all other networks (e.g. social media, word of mouth) that you may find. Stay connected.

Q.: Are you in touch with many alumni? Has the alumni network helped you in your career?
I am in touch with some alumni but through time unfortunately we have drifted away, so the ACG Alumni Relations is a really nice way to, hopefully, reconnect with old friends.
Through the alumni network, I have been able to support young professionals about to kick off their careers, the best example being the Media Hospitality program that I ran for Athens International Airport in 2001, while I was the AIA's spokesperson.
We had invited over a hundred DEREE volunteers from the Communication major to act as ambassadors for international media at the airport opening. All of them did an outstanding job, and the amazing thing is that I am still meeting volunteers of that time who are now successful professionals.

Q.: You have been involved in the egg (enter.grow.go) initiative which won the EEDE Award in the Corporate Affairs Excellence Awards. Can you tell us more about this initiative?
The "egg – enter•grow•go" program (www.theegg.gr) is a corporate social responsibility initiative by Eurobank, designed and implemented in cooperation with Corallia, that aims to boost young innovative entrepreneurship and improve employment opportunities for young people in Greece.
An integrated incubation, acceleration and co-working program, "egg – enter•grow•go" can engage young aspiring entrepreneurs from all over Greece who have creative and innovative ideas in any sector of the economy and who have the passion to put their idea into action.
Throughout the program, business groups experience the development of their business ideas as members of a dynamic innovation ecosystem. At this time, we have 25 teams and the program runs its 3rd cycle.
Another initiative of Eurobank, in cooperation with SEV (Union of Greek industrialists) for the support of applied research and innovation in Greece, is the contest "Greece Innovates!", which aims to bridge academia and the business community, and to discourage brain drain. The contest has won an EEDE award for Best Social Media. I invite you to visit www.kainotomeis.gr to get familiar with the outstanding innovative concepts of Greek researchers and scientists.
Both of these initiatives are part of a series of targeted actions, aiming to support sectors and activities that we believe will play a leading role in restoring economic growth.

Q.: What do you think of the rising of entrepreneurship in Greece?
It makes absolute sense that in a period of large scale unemployment, especially among younger professionals who have a much better understanding of today's market and the inner workings of the economy – compared to previous generations – entrepreneurship is on the rise.
I am very lucky to work for a bank that truly believes in and supports entrepreneurship with large-scale projects such as "egg" and "Greece Innovates!", as mentioned above, but also with other significant economic initiatives. Eurobank, together with the Exports Cluster and the Chamber of Commerce, is behind "Go International", which supports Greek exporters in their effort to enter new markets, be competitive and build up the extroversion of the Greek economy.
Obviously, I think that the only way forward for the Greek economy is to become more extroverted and competitive in areas that strengthen entrepreneurship, and strategically enhance the country's potential to increase its exports capacity.