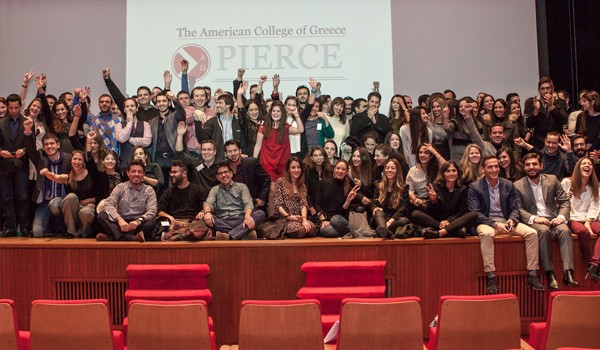 Ten years have passed since PIERCE Class of 2005 graduated, so on Tuesday December 22, over 100 alumni from the Class of '05 gathered in their alma mater for their Reunion.
The graduates were welcomed home by opening remarks from Dr. Dimitris Andreou, VP of Enrollment & Administration, Olga Julius, PIERCE Principal, and Maria Laina, Executive Director of Development & Alumni Relations.
A few remarks by Manolis Giannakis a current PIERCE student scholarship recipient, followed. Manolis said, "PIERCE is and always will be an integral piece of our hearts – our home, where we've had so many happy moments, and will continue to do so until we graduate. Most importantly, friendships were born in this school that will accompany and unite us for a lifetime."
Class of '05 graduate, now attorney at law, Demetre E. Katsouris said, "It is a deeply moving and especially wonderful experience for us all to meet up after so many years. The memories are intense, but apart from reminiscing about joyful moments from our school days, we also have the chance to talk about the challenges of the present, and our goals for the future.
Such occasions, an essential component of the timeless academic ethos of PIERCE College, strengthen our ties and enable us to look to the future with optimism; we are reminded that we are supported by strong foundations instilled by our alma mater."
The celebrations and mingling took place in the dolled up PIERCE Cafeteria- complete with wine, finger-food, and a DJ. There was also an interactive photo booth which captured wonderful moments of festive cheer and a great turnout; see for yourself by clicking here. Spoiler alert, there's a lot of smiling, happy people!
Thanks for the party Class of 2005, stay in touch!