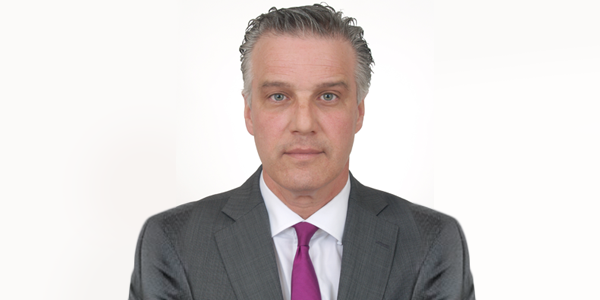 John Exarhos graduated from Deree in 1991, with a BA in Economics. He has also studied Management and earned an MBA in International Business. In his 25-year career, John has developed a wide set of skills by working in different fields including marketing, finance and sales, and has lectured widely on finance. Sharp, Raxevsky, BASF Chemicals, XIOSBANK and Allianz are some of the companies in which he has held positions of responsibility. Currently, he is Sales Manager in the asset management business of Allianz S.E. (PIMCO & AGI).
In an interview with TouchBase, Exarchos spoke about his work, his memories of Deree, and offered some useful advice to young people.
INTERVIEW
Q.: Tell us a little bit about your line of work, what does it entail? Which skills would you say are crucial to your profession?
My line of work is managing risk and future expectations of high net worth individuals, institutional clients and public or private pension funds in Greece, while using as investment vehicles products solely provided by my mother company Allianz SE & PIMCO.
Therefore, sales, interpersonal and human resources management, risk and portfolio management, and the efficient use of behavioral science tools, are daily skills required in my field. 
Furthermore, after the 2007-2008 Lehmann Brothers crisis in America, there was a financial Armageddon with a global ripple effect.  In our dialect, we call this economic phenomenon a "Black Swan"; an unexpected socioeconomic outcome which could never been anticipated, as was the 1929-1933 US stock crash which led the US into the Depression of the 30's. What has risen from this "Black Swan", is that in my field of work, whereas in the past professional certifications were not obligatory, they are now mandatory, expected, updated, and validated in all aspects.
Q.: What is your favorite part of your job? What motivates you?
My work has a lot of unexpected outcomes, based upon the social, political and economic environment, putting me on the spot daily to manage market and human volatility under a risk adjusted basis. This volatility is what makes me get up from bed every morning, eager to work on all of the daily unexpected threats and opportunities.
Q.: Has the ACG alumni network helped you in your career?
Even though the career path I followed was not associated with any Deree alumni for the first 15 years, more recently, the last 10 years, I was closely associated and "signed off" by a very high ranking Deree graduate, who at the time held a senior management position in a multi-national banking institution in Greece.
Mr. D.P. merely "opened a door" based upon the fact that he knew that my basic, fundamental education and academic training was the result of an all-inclusive and all-around educational experience (or curve, as we say today) from an undisputed higher education establishment in Greece which he had also attended (Deree); meaning that there was a benchmark well known to him and me, a benchmark of expectations and obligations going forward.
Therefore, I don't believe in accidents or luck, but rather in persistence, transparency, and unexpected feed-back form the market which means that one must feel, live and be in a continuous business trajectory without that meaning that one's personal life, family, and interests are not part of this trajectory.
Q.: What is your advice to young people struggling to find work in Greece?
Aim for versatility, persistence, and a competitive mentality, such as the one found in sports. Keep an open mind, and put great emphasis on skill acquisition, and learning new languages.
I would also advise young students to get involved in all aspects of College activities in order to be shielded against "turmoil" in their career path. In essence, turmoil is a basic ingredient in all business and economic cycles (be that the volatility of the market, or tectonic re-alignments in the economy). We should be trained for these troughs and peaks in our career path, which are no more than just part of the greater business and social cycle. We must adopt, and keep ourselves informed on, all new skills or tasks required going forward. For example, Digital Marketing, Cloud Computing, and new economic paradigms.