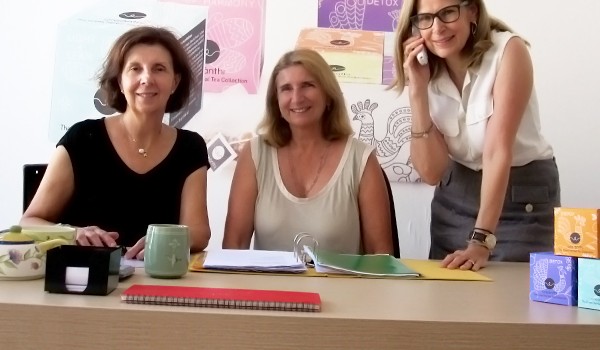 Pierce graduates Yota Pavlaki, Sophia Stathatou, and Eleni Tsavalou Vafiadi have been friends since the mid 60's, Now, through a new venture, they have become business partners, too.
By 2012, Greece was already suffering the effects of the deepest slump in its modern history. Despite the dire economic climate, the three women ventured to set up an original business, Oreanthi. The idea was simple: a collection of Greek herbal teas and blends with flowers; a marriage of tradition and innovation.
The second was the synthesis of Eleni's studies and career in market research at companies such as Unilever and the Lambrakis Press Group, and Yota's studies in Economics (D '74), her career in the advertising agency Bold Ogilvy, and later, her position as communication director at Interamerican. While Eleni and Yota served up some serious business acumen, Sophia's studies in English (D '74) and her love of Greek flowers and plants that led to her signature Greek landscaping, tied the whole thing together. Sophia also oversees the Botanical Garden of Kaisariani, and works at the Athens Friends of the Forest Association, an NGO which handled the reforestation of Mt. Hymettus after World War II.
Through hard work, input from friends, continuous tweaking, and the passion of the three alumnae, the Oreanthi idea grew strong. It gave rise to masterful blends of Greek aromatic herbs and flowers that can be found nowhere else. The three founders even created a biodegradable pyramid tea-bag to allow for the famously hard-to-package Greek mountain tea to be cut and packed.
With the business growing steadily, the three friends decided to participate in the fourth cycle of Alba's entrepreneurial initiative, Venture Garden. Participating helped the business owners streamline their thoughts and ideas and better understand their customers and their value proposition.
And so they were able to present their idea in full blossom: a novel lifestyle product bursting with wellness benefits; and a state-of-the-art packaging design that received international distinction as one of the world's best best in the 2014 review of the Epica Awards, and won the bronze at the 2015 Ermis Awards.
Yota Pavlaki, Sophia Stathatou, and Eleni Tsavalou Vafiadi, tell an inspiring tale of friendship, innovation, and hope for entrepreneurs in a country that still stifles creativity and innovation. "Go for it and follow your dream," says Yota, "There are opportunities out there in the market. Think outside the box, and if you have passion for what you're doing, stay passionate!" Eleni adds. "Persevere, and be patient; age is of no matter, it's the idea," she adds.
For more on the tea collection and company, please visit the Oreanthi website. To stay up to date and show your support of this alumni endeavor, follow them on Facebook & Twitter
For more information on Venture Garden, please click here.