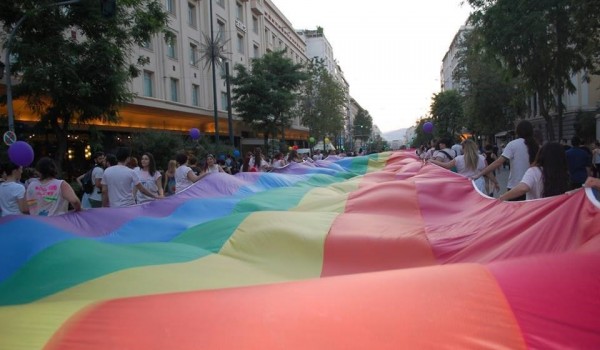 The legacy of two alumnae, and the first LGBT organization in Greece to be affiliated with an educational institution.
Lesbian, Gay, Bisexual, and Transgender (LGBT+) rights have been receiving extensive worldwide coverage as of late, some of it due to positive change, and some due to deplorable acts, such as the events that unfolded in Orlando earlier in June. Though tainted by those events, the international Pride month has seen thousands of Pride parades across the globe, with millions of people celebrating in unity an individual's right to love, to be.
The LGBT+ community found its voice at Deree in January 2012, when a young English major decided that the College was a place that would welcome the next step in the evolution of social and political awareness, as a forward-thinking center of transformative education. Irida Farrou graduated in 2015, a few years after she set up the LGBTQ+ Awareness Club with fellow English major Dimitra Xepapadea (D '14).
The club was created to raise awareness on issues concerning the LGBT community, both on a global and local level. Their mission statement is "to create a positive environment for LGBTQ+ students to express themselves, provide support and understanding, and advocate equal rights for all." Their motto? "All for love, love for all."
"We had a lot of support from the administration" Irida said, adding that, "even though we were worried there might be negative reactions, or unsolicited hate speech directed at us, things went really well." Over the past four years they have collaborated with several other student clubs on campus – e.g. screenings with the Film Club – and have included several Greek LGBT organizations – Athens Pride, Kentro Zois, and Color Youth­ – in their annual LGBT Awareness Week.
After the founding members graduated, current students Rene (Eirini) Papaspyrou and Vasiliki Voskidi took over as the club's governing body and focused on building up the club's presence and involvement on campus, as well as outside the College.
Armed With Knowledge
"Knowledge is power, and so we do our best to provide our members, as well as the rest of the college, with experiences and information that can be used to fight racism and ignorance," Rene said, explaining that the club also hosts and takes part in educational events such as an LGBT terminology workshop-presentation, the lecture "HIV: Knowledge-Attitudes-Rights" by Kentro Zois, and the seminar "Breaking the Surface" by Olympic gold medalist, activist and author, Greg Louganis.
This year, the LGBTQ+ Awareness Club collaborated with the It Gets Better Project, a worldwide, non-profit movement that gives hope to LGBT youth and inspires change. The workshop included a discussion led by Thanos Vlachogiannis, the official representative of the newly launched IT GETS BETTER Greece. Furthermore, Dr. Nancy Papathanasiou, the scientific coordinator for the first national helpline for LGBT youth, 11528, spoke about the psychological support and social integration techniques that are currently available to LGBT youth in Greece. This incredible collaboration and event were made possible thanks to the efforts of the freshly recruited Marilena Dania.
Athens Pride
Most recently, the club took part in the annual Athens Pride Parade, held in June. "Athens Pride celebrates individuality regardless of gender, sexuality, ethnicity and any characteristic that serves as a label to isolate people," said Rene. "We come together as a team and represent the College by spreading a sense of togetherness and support! It is hopeful to see such joy, and to know that the LGBTQ+ Awareness Club has already made a difference in the lives of many young people."
"With the increasing prominence of LGBT issues, it is vital for the Greek youth to see that LGBT rights are important in our country, and to feel confident that Greece will not be left behind in the fight for equality," added Vasiliki, emphasizing that, "With the support of our College, we know that nothing is out of reach and we can strive for real change. Our club was the first LGBT organization in Greece to be affiliated with an academic institution of higher education, and we've always enjoyed that extra support."
At this time, the LGBT+ movement is a topic of heated political and religious debate. At the recent UN meeting in Geneva, there was discussion of adding an LGBT+ Rights Officer to the Human Rights Council, and even Pope Francis spoke to the press, including the Guardian, and argued that Christians and the Roman Catholic Church should seek forgiveness from gay people for the way they have treated them, adding that they "should not be discriminated against. They should be respected."
On the importance of having such a club in Deree, Vasiliki said, "It is extremely important for students to feel that there is a place where they are safe to express their ideas but also their worries, their triumphs, and their struggles; a place where they can be involved in taking action on matters that are important and truly affect their lives."
To follow the club and show your support, you can like their official Facebook page.