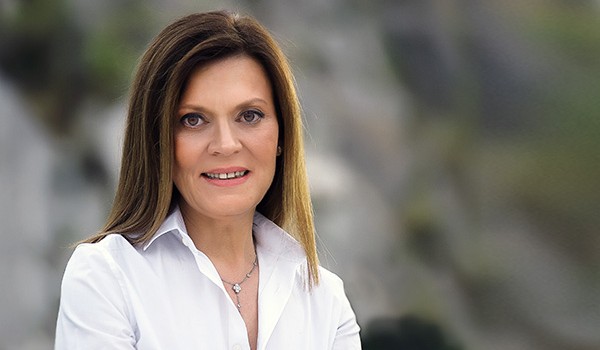 Olga Manou was born in Athens in 1962, and graduated from Pierce in 1980. She has been working in Loulis Mills S.A. since October of 1980, excluding the period between 1990 and 1996, when she was Editor of the newspaper Thessalia, and Director of the company GRAFI S.A. Since 2013, she has been the Corporate Responsibility Director of Loulis Mills, and Director of the Loulis Museum. She is married to Nikos Ghikas, and has two children, Nikos and Evi Louli, and 4 grandchildren.
Q.: What motivates you in your work, and which is the biggest challenge you have to overcome in relation to your work?
What motivates me every single day in my work is my love and commitment to our company, which I have been serving for the last 36 years. Loulis Mills has been an active member of our society and the economy for 230 years, and has greatly influenced the strategy that guides us to realize our vision.
The biggest challenge I had to overcome, as I took leadership of the company's newly created Sustainability Department in 2013, was to assess the extent to which our growth is responsible towards society, while updating our strategy and renewing our commitments. In tandem, we had to educate and activate the various stakeholders, for them to be part of the procedure, and take ownership towards achieving our goals in this endeavor.
Q.: How would you define corporate social responsibility (CSR)?
My definition of CSR is when companies, citizens, and the state, synergistically contribute to continuously creating a better society and a healthier environment.
A socially responsible company leads all stakeholders to a process of perpetual self-improvement, it creates value for society, its employees, customers, and partners, and eventually is a source of pride for the stakeholders by association to the organization.
Q.: What are the main CSR initiatives you have undertaken since the establishment of the department?
The main initiatives we have undertaken are firstly, the establishment of a theme museum, The Loulis Museum "from wheat to bread," with the vision to preserve the rich history and tradition of the "wheat – flour – bread" chain, while at the same time promoting the nutritional values of the Mediterranean diet.
Secondly, the fulfillment of the needs of local communities in which we operate, in such a way as to best support vulnerable social groups in a more productive and structured way. We have accomplished this by supporting a number of NGOs, participating in university programs, and by donating and supplying the "social mini-markets" of our area throughout the year.
Thirdly, we have focused on maintaining an environmentally friendly operation through the use of technology, as it's been our common practice for the last 4 decades. Loulis Mills is a company that cares deeply about the environment and we are of the belief that we do not inherit the environment from our ancestors, but rather we borrow it from our children, as the proverb goes. In recent years, we have applied several best practices and made investments, all of which can be found in our annual sustainability report and our corporate site.
Fourthly, the establishment of the ongoing Contractual Agriculture Program, operational since 2013. This action required significant investments in order to strengthen the local economy and provide greater quantities of Greek high quality cereals. The company's intention is to continue and expand the program in the years to come.
In the past three years, we have also invested in training professional bakers and we founded the "Hellenic Baking School" in 2015.
Finally, as we have great concern towards our people, as we believe that our people are our biggest asset, we have created an employee blood bank, we established the annual "Social Responsibility & Volunteering Week" – which is already running successfully for the second year, and we greatly increased the average training time per employee.
Q.: What would you advise young people who are considering whether they should stay in Greece or seek a better future abroad?
I would advise young people entering the labor market to definitely start by gaining some work experience, irrespective of whether they intend to stay in Greece or go abroad. Having gone through such an experience, they will be better equipped to decide whether they want to stay or go abroad. It is a difficult decision and each individual will have to evaluate the situation and find what suits them best.
Under the present circumstances however, my personal opinion is that most career opportunities are abroad. I believe that by working abroad young people can gain a different perspective and view of things in larger markets, collect experiences, and learn how to think "outside the box."
Q.: What are some of the skills or values that you acquired at Pierce that have proven particularly useful?  How did your time at Pierce influence your career path?
During the six years I spent at Pierce, I had the opportunity to learn a lot, greatly influencing my life and career path. Some of these timeless values, concepts, and lessons are:
Think outside of the box
Encourage teamwork
Set definite goals
Live and learn, since knowledge is an invaluable tool
Have faith – believe in yourself and chase your dreams
Every day of your life can be a new beginning
Don't wait for conditions to change – change them yourself
Trust in creative values, and respect principles and tradition
Experiment and improve
Respect