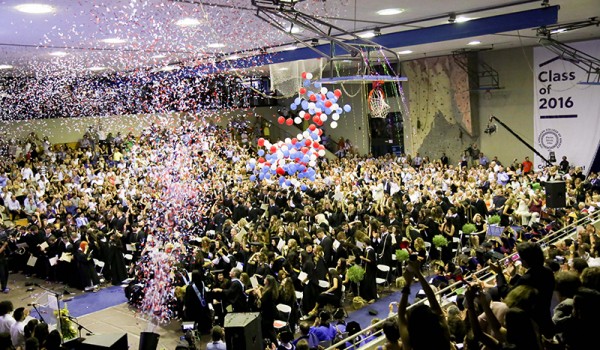 Deree Commencement 2016: In Celebration of Future Leaders!
On Saturday, June 25, we celebrated the accomplishments of our hard-working and inspiring students leading up to the wonderful moment of their graduation and commencing a new beginning.
More than 300 undergraduate and graduate Deree students from 18 countries were awarded their degrees, joining the ACG family of over 52,000 alumni across the globe. The graduating class was cheered on by over 2,500 guests, including family, friends, and ACG staff, faculty, and the Board of Trustees. Among the guests were also ambassadors and embassy representatives of several countries, as well as journalists and dignitaries from the political, cultural, and business spheres. A wonderful surprise was the presence of Mikis Theodorakis, Greece's legendary composer and an ACG honorary degree holder, who was there to celebrate his grandson's graduation. In honor of Dr. Theodorakis' presence, the Commencement Ceremony also included a short musical interlude.
President Horner welcomed the students and guests to the ceremony and highlighted its significance saying, "On a scale of one to ten, the importance of this event in my view is a ten! It's a ten to our students, to their family and friends and to the faculty and staff of the College who have had the privilege of working with tonight's graduates over several years." The Ambassador of the United States Embassy in Greece, David D. Pearce, greeted the audience, advising the graduating class to always bring out the best in themselves and in others and to give back to their communities.
This year's guest of honor was Martin T. Meehan, JD, President of the University of Massachusetts. Born and raised in Lowell, MA, Meehan graduated cum laude from UMass Lowell with a degree in education and political science. He later earned a master's degree in public administration from Suffolk University, and a juris doctor from Suffolk University Law School.
During his career, Meehan has served as Deputy Secretary of State for securities and corporations, First Assistant District Attorney for Middlesex County, and has represented the 5th congressional district of Massachusetts in the U.S. House of Representatives for 14 years. Meehan was then elected Chancellor of UMass Lowell, and after 8 successful years of leading the campus on its rise to top-tier national university status, he was elected to the presidency of the 73,000-student University of Massachusetts system in 2015.
Marty Meehan was awarded the honorary degree of Doctor of Laws, honoris causa, for his contribution to education and politics. President Meehan addressed the graduating class and talked about how impactful multiculturalism is in the development and formation of society. He shared this advice with the graduating students saying, "When you take off that cap and gown, work hard to help your country embrace innovation, and as you do, commit to innovative thinking in your own lives. Now more than ever, we need you to embrace innovation, diversity, and new thinking." He urged the graduating class, "don't be afraid to step onto the battlefield of ideas. As you set goals for yourself and think about what you want to accomplish, be true to who you are. But always be an active listener. You'll be surprised how much you can learn when you listen. Your lives will be richer, and our world will be so much stronger for it."
Graduating Communication student Dimitris Lykouris, addressed the audience and his fellow graduates saying, "At Deree knowledge blooms and opportunities thrive, our education has given us the chance to experience the world through our own eyes, and to better understand ourselves so that we can face the challenges ahead with ethos, courage, and confidence. From simple members of society, we have become citizens of the world." On behalf of his fellow graduates, Dimitris thanked friends, family, and ACG staff and faculty for their support, and urged the Deree Class of 2016 to "Take courageous risks. Change the world for the common good, and see this day as one of your many accomplishments to come."
For many of the graduates, their next accomplishment is nearing on the horizon having already been accepted to world-class universities – including UCL, Cass Business School, LSE – for graduate studies, while others have been successfully employed at leading companies such as Coca-Cola, even before their official graduation!
President David G. Horner awarded the graduating students with bachelor's and master's degrees and addressed the 2016 Deree Class saying, "This moment belongs primarily to you. While others helped to bring you to this place, it is you who claimed this investment and made it your own. Now you stand at the threshold of a future you must also claim as your own. Graduates of 2016, we are proud of your accomplishments; we are the better for our association with you as colleagues in learning, and we send you forth in confidence to share your considerable gifts with a world that needs the contributions that you, uniquely, can offer!"
With a degree in their hands, over 300 new alumni threw their graduation caps up, while balloons, confetti, and cheers filled the air! The Commencement Ceremony is a night to celebrate the accomplishments and excellence of the next generation of leaders, giving us all hope for a brighter world.
Pierce Commencement 2016: Here's to New Beginnings!
On Sunday, June 26, this year's Pierce graduates bid farewell to their school at the 2016 Commencement Ceremony.
As the 168 graduates begin a new chapter in their lives, their parents, friends, and teachers stood by their side in recognition of their accomplishments and cheered them on, united in wishing them luck and success in their next steps.
President David G. Horner, said "Our graduating seniors, like the Pierce classes before them, have embodied the mission of The American College of Greece, and they will continue to do so as alumni and citizens of Greece and the world. And so, we thank them even as we thank the family, friends, teachers and others who have encouraged and sustained them."
Dr. Horner then introduced Dan Miller, honored guest of the ceremony, and a member of the ACG Board of Trustees. Miller is the head of The Wheeler School in Providence, Rhode Island.
In a touching speech, Miller spoke about all those who have helped the graduating students along the way. He mentioned the staff saying, "their efforts on your behalf began before you ever set foot on the campus for the first time." Miller then asked the students to reflect on their teachers, "They have given you far more than knowledge. They have made you their life's work; they have believed in you, and they have instilled skill and curiosity and confidence that will endure for a lifetime. Students, you may begin to recognize the rarity of their investment now, but your understanding will deepen as you grow older and begin a reckoning of those who have truly cared most along your way."
"Of course it is also a day to thank one's family," Miller said adding, "although you can never thank them enough. Well beyond the financial commitment, who can calculate the miles driven, the lunches packed, the sleep lost, the bad music tolerated, the dreams invested? Someday, students, you may choose to have children of your own. Perhaps only then will you fathom the exquisite vulnerability that comes with unconditional love."
Lastly, Miller spoke of the night's "guests of honor," the students. "You have come to this point with such grace and good will, so willing and able to learn… You have come of age in an extraordinary moment in history – a time of shifted paradigms, a time of economic and political uncertainty. But with uncertainty comes unprecedented possibility. You will head off to University and then into a world desperate for your skills, your idealism, your work ethic, your belief in your country and yourselves."
Pierce Principal Olga E. Julius advised the graduating class to cultivate their passions, and offered them sage advice saying, "Aim for your purpose. Rather than ask, 'What do I want to be when I grow up?' ask, 'In what way do I wish the world were different?'"
In a spirited speech, graduating student Athina Mitsi urged her classmates to dedicate themselves to shaping a better society, of less greed and corruption. "Personally, I refuse to believe that human nature is so eroded; that it is more violent and immoral than pure, and precious, and full of love for the world and life. Let us, the youth, the future of society that today becomes its present, prove that the spark that inspired the minds and souls of those who contributed to the progress of humanity, still exists. Let's prove that that spark burns within us, and will lead us to doing our part on the road to progress, and to rebuild our world according to the standards of our dreams."
Graduating student Basil Benopoulos also addressed his fellow students, advising them to live a life of meaning, and said, "this day marks the start of a bright new chapter in our lives. Let us enter it filled with hope and pride, and let each one of us build a life worth living. My friends and classmates, Class of 2016, make sure the world notices you passed by! Best of luck!"
President Horner brought the ceremony to a close by addressing the new graduates. "We send you forth with full confidence. We will welcome you back warmly to your school home at any time. As you go, we also thank you for all you have done as students and will do as alumni to uphold the mission and the noble traditions of Pierce College!"
Congratulations Classes of 2016!
We wish you the best of luck in your next steps, and wish you a future full of hope, opportunity, and inspiration. As Socrates said, "Education is the kindling of a flame, not the filling of a vessel." Keep feeding the flame, and never stop learning, growing, and exploring!