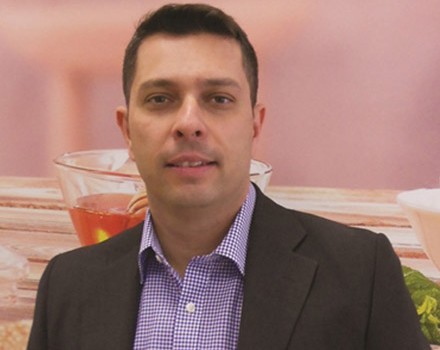 George Tsompanidis was born in Athens in 1975, and holds a degree in Business Administration from Deree (2000), an MBA from Bentley University (MA, USA) and a certificate in Public Relations from the Hellenic American Union. So far in his 21-year career, he has worked in: retail, telecommunications, the automobile sector, banking, big events, and in the Organizing Committee for the Athens 2004 Olympic Games. Beyond Greece, George's work has also taken him to the UK and Qatar. He joined Dodoni in March 2013 as Marketing Manager and, since September 2014, he holds the position of Group Marketing Director of Dodoni and Chillbox.
George is married, and a father to two boys, aged 7 and 5 ½!
Q&A
What are three enduring lessons you learned during your studies at Deree?
Studies are much more than just studying.
Think as an individual, act as a team.
Make the best out of everything.
Describe Deree in three words.
Deree is an SUV super car.
One of your favorite Deree memories?
Studies: I provided a solution to a problem in less time and steps than the professor, to which she replied, "Never try this solution on your own! It's correct but it needs a lot of thinking calculations!"
Extracurricular activities:  The Deree Soccer Team trip to Thessaloniki, and the team in general!
What do you miss most from your days at Deree?
My classmates. But also the feeling the college gave us every day; that we could conquer the world.
Which was your favorite spot on campus?
Wendy's cafeteria, and the soccer field.
Who was your favorite professor and why?
Lila Mordochae. Strict, accurate, passionate, smart… and the list goes on.
Have you kept in touch with any of your classmates?
A few are really close friends. Dozens of others are good colleagues and pleasant acquaintances, and we're always ready to help each other.
How did Deree help prepare you for your professional life?
It taught me to think big, globally, and to act as a member of a team. It also taught me that although skills matter, character matters even more, and that you always have to take advantage of what life has to offer.
What's the greatest piece of advice you've ever received?
Be patient, be persistent, and never give up!
What (or who) inspires you most?
Everyone that tries their best, no matter the circumstances.
Your motto in life?
Always aim higher!