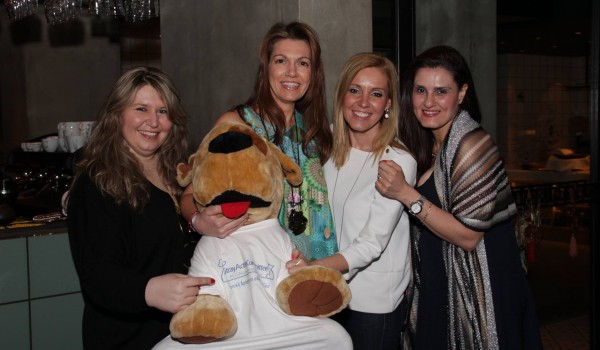 The ACG Alumni Association, established in 1928, has always been particularly active and committed in charity and welfare. In 2013, Zeta Tzioti (D '97), Deree alumna and past president of the ACG Alumni Association, wished to create a non-profit animal welfare committee to support the wellbeing of stray animals in Greece.
Her vision was brought to life when the ACG Alumni Association Stray Action Committee was established by Angelica Herra (D '93) well known for her hands-on experience with stray animal rescues. In 2015, the newly elected president of the ACG Alumni Association, Vivian Giannopoulou (P '95) took over the reins striving toward the same vision with the helping hand of Pierce '53 alumna Bessy Chrysostomou.
The alumni group's activities include the systematic rescuing, vaccinating, neutering, and rehabilitation of the countless stray animals in Greece. The Committee's vision however, further extends to the education of the public for lasting change, ranging from concepts such as pet ownership, teaching respect and compassion toward animals, as well as effective animal handling in the home for peaceful cohabitation!
In the context of the Committee's greater educational role, Angelica Herra started studying dog training and behavior at the Victoria Stilwell Academy (VSA) and, by the end of March 2017, she will be VSA-certified dog training graduate. Victoria Stilwell is a world-renowned dog trainer and a vocal proponent of positive training, based on reward, force free, pain-free, non-punitive and positive reinforcement methods only!
The dedication of the Committee's most active members and on-the-ground response team has contributed to taking care of injured animals, neutering and vaccinating them and finally finding a home for the stray animals. Heartfelt congratulations to: Dido Mangriotis (Alba '05), Ismene Pampouca (P '89), Sophia Leoussis (D '78), Irene Lymberopoulou (D '04) and Chrysostomos Sbonias (D '05), but also to Gianna Tagiou and Korina Katsikopoulou, who even though they are not ACG alumni, have been devoted volunteers to the ACG Stray Action Committee's work.
From 2013 to 2016, the ACG Alumni Association Stray Action Committee, has spent over 5,000 € to take care of stray animals. During this time, the Committee has also hosted numerous educational events such as a presentation by Stray Action Pet Therapy (SAPT), to help educate the public on topics such as the ability of dogs to help people with special needs or illnesses.
More information about the initiative can be found on the association's official site. To support or get involved with the ACG Alumni Association Stray Action Committee, please contact them on Facebook, or get in touch at: +30 210 777 07 507, [email protected]