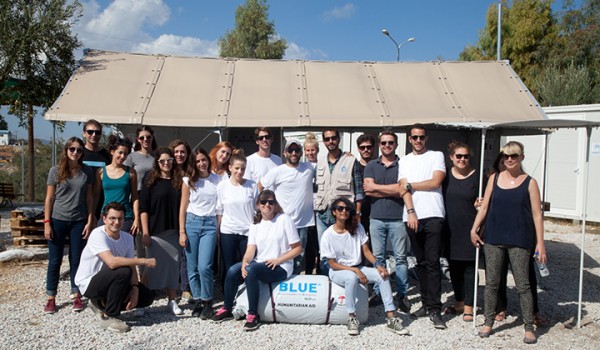 Three Pierce alumni have recently joined forces in an inspiring effort to help with the refugee crisis; and it all started with Pierce Gymnasium alumnus Aris Papadopoulos.
In 2012, following studies in architecture and construction management, and a career in global engineering firms ARUP and AEDAS, Aris established the LATRA design agency in Lesvos: an agency that specializes in architecture, design, and humanitarian‐centered projects that merge innovation, technology, and education. The agency's projects can be found in Greece, the United Kingdom, and South Africa, and all of the work is geared toward taking care of people's habitat and the built environment, hence the name 'Latra' from the Greek work 'λάτρα' (φροντίδα, to care for – caring).
Following the refugee crisis, the agency was the first to establish a design unit and incubation hub that operates directly in the humanitarian field in Lesvos, by building the LATRA INNOVATION LAB on the Kara Tepe Ηospitality Centre for Refugees and Migrants operated by the Municipality of Lesvos. In this prototype and forward thinking refugee camp, the lab focuses on the design of projects, products, and services that positively contribute to the production and distribution of shelter solutions, core relief and life-sustaining items, as well as sanitation applications, using open-source product design, 3D printers, UAVs (unmanned aerial vehicles/drones) and the latest technology in innovative design.
CORE RELIEF
CORE RELIEF was a 7-day workshop held October 3-9, featuring a group of international designers, makers, techies, thinkers, producers, developers, writers and photographers assisted by NGOs, local authorities and organizations, as well as representatives from the private sector.
LATRA organized and produced the first international humanitarian design workshop in Lesvos, with the participation of more than 40 emerging multidisciplinary professionals from 10 different countries, representing over 15 organizations, including: the UNRWA (United Nations Relief and Works Agency), Médecins Du Monde (Doctors of the World), Better Shelter, The Embassy of the Kingdom of The Netherlands, ERCI, Sympleusis, and Save the Children. Together, the professionals studied applications of additive manufacturing and UAVs in the design, production, and distribution of refugee housing units and core relief items (CRIs) such as tents, blankets, tarpaulins, buckets, water jugs, and sheets.
From early on in the project, Aris was joined by his fellow Pierce alumni and old school-friends, Marily Konstantinopoulou (P '99), and Panos Sakkas (P '98). Marily is a Stavros Niarchos Foundation R&D Fellow at the Museum of Modern Art in New York City, and worked on the production and documentation of CORE RELIEF. Panos Sakkas resides and works in Rotterdam as a Digital Design and Fabrication Specialist, focusing on environmental issues; he participated in the event as a tutor and lecturer.
The aim of the LATRA INNOVATION LAB is to place multidiscipline actors directly in the field with access to innovative design technology where, with the help of pioneering humanitarian organizations, they can create an environment that allows for opportunities in social innovation and economic empowerment, as well as direct and all-inclusive learning experiences.
Find out more about LATRA, watch the video, and follow them on Facebook to stay up to date!