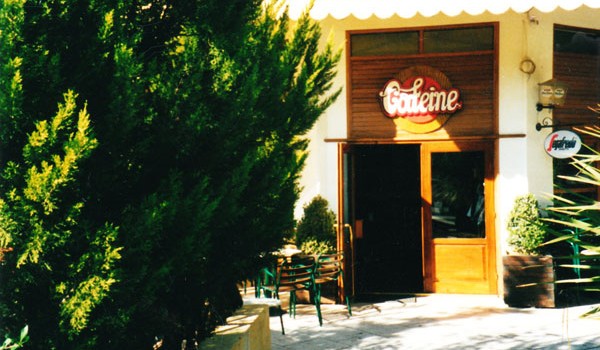 Twenty years ago, Giannis Argyros opened a café-bar on the corner of Gravias and Agiou Ioannou. Who knew that this establishment would fuse so well with the ACG community, with Cafeine having become a staple of students' ACG experience!
Reminiscing, Mr. Argyros said that many, many students have passed through Cafeine's doors over the years, a lot of them also working there while studying at DEREE. He fondly added that through his business he's re-connected with many graduates he'd known as students over the years, having now formed strong professional relationships through the companies the alumni represent.
He has now also opened the new restaurant Kipos a few buildings down the road from Cafeine, adding to Agia Paraskevi an oasis of wood, pastel green and crimson, enclosed in a serene, green garden. Since the summer when Kipos opened, a good portion of its patrons have been ACG community members. In fact, while conducting the interview with Mr. Argyros, two IT students in the background were working on a group project, while enjoying hot comfort food.
Though Mr. Argyros and his establishments are not directly related to the College, through these 20 years he says, "a great relationship has formed with ACG students, staff, faculty, and parents. I felt the need to honor this relationship by giving back as much as I can." Upon hearing of ACG's effort to support students financially, he says, "I wanted to support the College's initiative, and do my best to encourage such efforts."
In 2013, Mr. Argyros sponsored a DEREE student in his studies abroad, and this year his support allowed 3 students to travel to the United States and South Korea to study. The donor supported DEREE students Marilena Sitaropoulou, who took courses in North Central College in Illinois, George Brianis, who attended courses in the University of San Francisco, and Panagiotis Koutsodaskalos, who attended courses in Pukyong National University PKNU in South Korea.
His motivation in supporting the Study Abroad Program is, in part, to expose students to different cultures and environments, so that they can come back and share their experiences and life lessons with their peers, but also with him!
"My hope is that by sharing this personal effort, many more people will be motivated to give back to this community. In these difficult times it's important that we all help, as much as each of us is able to."
We thank Mr. Argyros for his generosity towards our students that is helping them expand their horizons, for his faith in our mission and vision, and for his wonderful and long friendship with the ACG community.