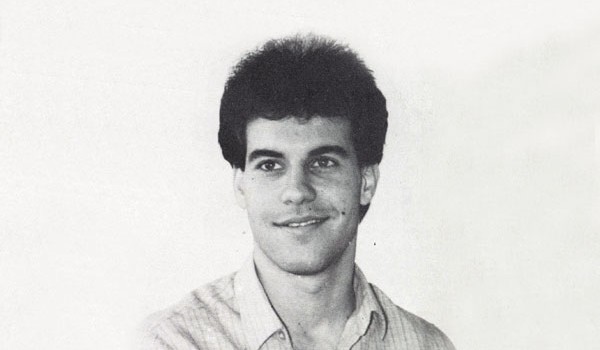 Eighteen years have gone by since the untimely death of Marinos Zenios Deree '86 alumnus, but Marinos was never forgotten thanks to the generosity of UBS Warburg (formerly the Dillon Reed Bank), his colleagues, friends and family who, in 1998, established an endowed scholarship at The American College of Greece in his memory. ACG is tremendously grateful to all who, despite the loss they experienced, decided to turn their grief into a gift that will be there to support ACG students in perpetuity.
Marinos graduated from Deree with a degree in Computer Information Systems in 1986. An excellent student, he continued his studies at Carnegie-Mellon University in Pittsburgh, and was employed thereafter by the New York branch of Union Bank of Switzerland until his untimely death in 1998 when Swissair Flight 111 crashed near Peggy's Cove, Nova Scotia.
Marinos wrote next to his photo in his class yearbook:
"How come I only got 26 out of 25 for the test?" Bye Zenix we'll miss your hilarious multiple choice tests and your great sense of humor.
Come, fill the cup, and in the fire of Spring
Your Winter-garment of Repentance fling:
The Bird of Time has but a little way
To flutter – and the Bird is on the Wing
-Omar Khayyam-
"I thank Deree for adding flame to the fire and direction to the Bird's flight. There are friends and moments that will always be part of me."
Marinos' parents who see their child's memory live on through this scholarship confess that: "This scholarship provides us with the satisfaction of being able to provide an opportunity to a talented child to make the most of his/her abilities (as Marinos did)."
Stefan Schmitz, friend and former colleague of Marinos, continues to support the scholarship in his memory with yearly gifts thus expanding the assistance provided. "Marino was a very influential and caring person when I started my career in NYC.  I enjoyed his company, his sense of humor, and the work atmosphere he created in our group.  By contributing to the Marinos Zenios Scholarship Fund, I hope that his spirit will live on in the many deserving recipients", said Mr. Schmitz.
Konstantinos Giannopoulos, recipient of the scholarship for the 2015-2016 academic year, recognizes the assistance received and expresses his gratitude: "Solidarity, bundled with high standards of education, is the most valuable tool in today's society. I'm truly grateful for the given opportunity."
The scholarship is meant to provide assistance to a promising entering or continuing student of limited financial resources that has declared Computer Information Systems and/or Information Technology as his/her major, following Marinos' path.
For more information on the Marinos Zenios Memorial Scholarship click here.
If you would like to add funds to this scholarship, create a scholarship fund at ACG, or contribute to any of the other existing funds, please visit www.acg.edu/giving or contact the Office of Development & Alumni Relations:
Mary-Irene Triantafillou (Deree '89), ACG Executive Director of Development t. +30 210.600.9800, ext.: 1239 or [email protected] – [email protected]
Maria Laina (Deree '94), ACG Executive Director of Development & Alumni Relations, ext.: 1035 or [email protected]