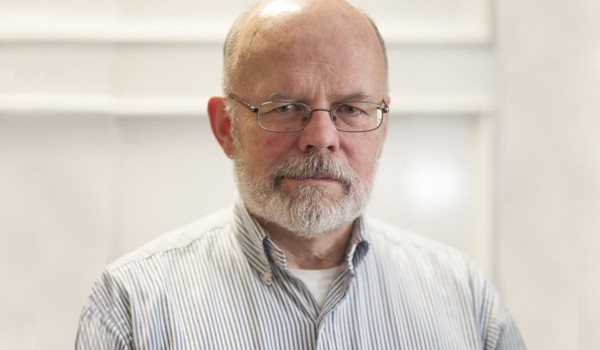 On Tuesday, January 26, Deree – The American College of Greece hosted the renowned publisher, poet and literary critic Michael Schmidt for an insightful lecture on poetry. The lecture was held at the upper level of the JSB Library, where ACG students, faculty, and staff gathered to listen to Dr. Schmidt reflect on the works of some of the greatest modern poets.
Dr. Patrick Quinn, Dean of the School of Liberal Arts and Sciences, introduced his longtime friend and fellow scholar Dr. Schmidt, with a Wittgenstein quote about not knowing where to start from; he referred to the multi-faceted personality of the lecturer and the various aspects of his study on poetry as a publisher, a critic, but also as a poet and a novelist.
Professor Schmidt took the audience on an engaging journey of the reader's experience, starting from Philip Larkin's work and his unique virtue of expressing not himself, but the reader; "a classical element found in ancient Greek poets," the speaker said. Dr. Schmidt elaborated on the key element used by Larkin in the communication with the reader: templates instead of images, a deliberate ubiquity of language, abstractions providing the reader space to create their individual visualizations. Schmidt analyzed the poem Home is so Sad and explained the presence of such templates through the structure, rhyming scheme, tonality and language of the poem.
Professor Schmidt then shared his experience of meeting Robert Frost in person and hearing him recite poems in a unique "rusty voice" that "gently cajoled into natural rhythm," referring to vocalic poetry and the power of vowels in delivering a musical tone. The speaker analyzed Frost's Runaway and his talent in using rural language "unencumbered by sophistication."
He spoke of the symbolism behind Frost's characteristic snowy weather, and how he is a "to the heart" writer as he never reveals more than the reader needs to know.
In the Q&A session that followed, an interesting discussion took place, spanning topics such as Larkin's subtle irony as a means to escape the truth, Frost's unsettling way of telling a rural truth without guilt, as well as the common ground between the work of these two poets and ancient Greek poetry: the presentation of profound truths without over-specificity, and the amazingly vocalic rhythm of both.
Michael Schmidt, the Mexican-born literary historian, writer and editor, has taught at Manchester, Glasgow and Cambridge. In 1969, he established Carcanet Press and PN Review, which he still manages. His books include Lives of the Poets (1999), The First Poets (2006) and The Novel: A Biography (2014) as well as collections of poems and two novels. His publishing list, now including Anvil Press, includes among the modern Greek poets, Seferis, Elytis, Gatsos, Vayenas and Katerina Anghelaki Rooke, and among the ancients the Homeric Hymns, Sappho, Palladas and Meleager.