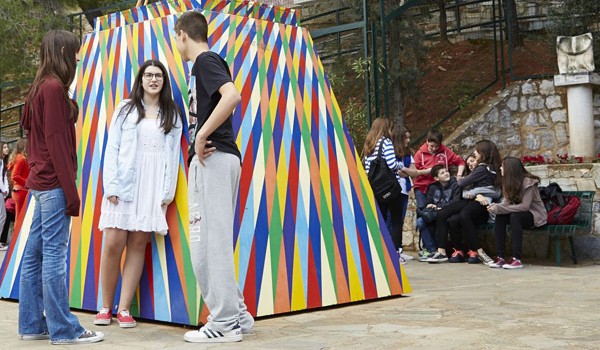 Pierce is already 140 years old, and despite its long course through time, the school has retained its founding values and its legacy, and has managed to consistently expand the number of enriching opportunities it offers its students.
Visiting astrophysicists from NASA? Check. Poetry, Science, and Film competitions? Check. Nationally awarded teachers? Check. Over 60 clubs for students to join? Check!
Pierce's pioneering philosophy is dedicated to providing a stimulating environment, so that every young personality can bloom, and indeed, our students bloom in every aspect and field, from sciences and the arts, to volunteerism and service to society!
The Center for Civic Engagement
A wonderful sample of the experiences and values instilled at Pierce, is the recently opened Center for Civic Engagement (CCE), a student-founded organization. The Center's aim is to engage the student body in volunteer work suited to each student's needs and interests, and to create fruitful collaborations with NGOs, non-profit organizations, and other volunteer groups.
The inspiration behind the CCE was PIERCE's long-standing tradition of volunteerism and sense of community spirit, both of which are perfectly summarized in the College's motto, "non ministrari sed ministrare" – to serve, not to be served. The founding members, recent graduate Georgios Anagnostopoulos, and current students Basil Benopoulos, Dimos Kaldis, Sada Mitsotaki, and Dimitra Vergou set up the Center with the aim of promoting volunteerism, community collectivity, active participation, creativity, and social consciousness.
Some of the CCE's first actions include the collaboration with the Animal Welfare Association of Nikea-Keratsini to provide support to stray dogs, and volunteering with "the Smile of the Child" at Paidon Hospitals, to support children who suffer.
Poetry Award: A Poem Inspired by the Holocaust of Kalavrita
During a school trip, high school student Maria Myrto Papathoma visited the region of Kalavrita and the local Folk Museum of the Kalavrita Holocaust. Our young student was inspired by what she saw and learned on this school trip, and wrote a moving poem, titled "Ένα παιδί στο λόφο κάθεται και λέει."
With this poem, Maria took part in the National Student Poetry Competition "Άθλον Ποιήσεως – Γιάννης και Λένα Στρέφη-Κουτσοχέρα" where she received Distinction. The competition was organized for the 21st consecutive year by the Municipality of Kalavrita, and the International Foundation of Yannis & Lena Strefi-Coutsoheras.
Maria Myrto Papathoma was also invited to attend a commemorative event organized by the Municipality of Kalavrita, on December 12 and 13, where she recited her poem for the audience and received Honorary Distinction.
2015 National Physics Competition
In December, five of our bright young minds took part in the 2015 National Physics Competition, organized by the Natural Sciences Laboratory at the Department of Education of the University of Athens. The high school students who stood out at the contest were Demosthenis Kaniaris, Christos Gazgas, Ioanna Theofani, Maro-Athena Theofani, and Pavlos Papandreou, all of them receiving Awards of Excellence.
Presidential Inauguration Leadership High School Summit
Katerina Martakou-Galiatsou, from the Pierce Lyceum, was recently chosen to take part in the Presidential Inauguration Leadership High School Summit, which will take place in Washington, US, in January 2017. The summit is part of a series of events leading up to the Inauguration of the New President of the United States of America. Katerina has the chance to be part of this great event after taking place in the Global Young Leaders Conference (GYLC) over the summer of 2015, and standing out for her innovative ideas.
This promising student will have the incredible opportunity to take part in a historic summit, during which she will meet and hear from many important figures, including the lead speaker Malala Yousafzai, the world-renown young activist who was jointly awarded the Nobel Peace Prize in 2014. The High School Summit for the 58th Presidential Inauguration will last for 5 days, during which time the participating students from across the globe will engage in meaningful dialogues, in search for solutions to matters of global interest.
Academic establishments tend to say they offer children the world. Well, at Pierce we offer a smaller, safer, and ever more fascinating world; a family of knowledge and opportunity. Who doesn't wish they could go back to their school years at a school that offers the freedom and opportunities to develop talents, lifelong friendships, and memories that will last a lifetime?
Pierce students, thank you for being stellar examples of artists, scientists, athletes, global citizens, active community members, and so much more; Faith in humanity… restored!