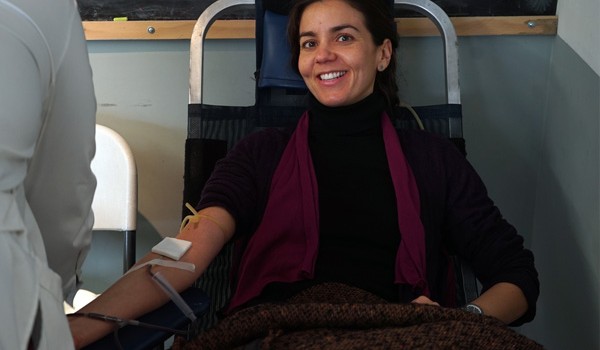 SOFIA KAMARETA, graduated from Deree in 2005 with a Bachelor of Science in Business Administration, and continued her education with graduate studies in Nonprofit Management.
Sofia is now working as a Corporate Volunteer Programs Officer at Volunteer4Greece, where she organizes and supervises volunteering programs aimed at connecting corporate offerings with nonprofit needs. Previously, Sofia worked in the Sikiarideio Foundation as a Fundraising & PR Officer for 5 years, prior to which she studied and worked in San Francisco, USA.
Sofia enjoys endurance sports, a hobby she picked up while studying at Deree and for which she thanks Sophie Themelis, ACG Wellness Coordinator.

Sofia, during a recent blood donation for blood-e!
Interview
Q.: What motivates you in your work, and which is the biggest challenge you have to overcome in relation to your work in the nonprofit sector?
I believe in breaking harmful stereotypes, and this is something that makes working in the non-profit sector extremely rewarding.
I often encounter individuals who believe that non-profits deal with miserable situations, or are primarily involved in fundraising actions. This is a common misconception that needs to be corrected, and I hope I contribute to making this happen.
Q.: What is your advice for young professionals and recent graduates who wish to enter the Greek non-profit, NGO landscape?
Be open to a life-changing experience! You will meet people from all sorts of backgrounds and statuses. You will be exposed to situations that will help you question your point of view in many ways.
This will result in a more receptive and compassionate way of thinking and living.
Q.: How did your time at Deree influence your career path?
I consider more important the ways in which my time at Deree helped me develop as a person. As a shy young freshman, I was encouraged to ask questions by my first English Literature professor, Mrs. Tokatlian. As a student assistant at the Writing Center, my Director Dr. Stratopoulos, empowered me to take initiative and organize projects, as she trusted me fully.
Professor Patras, my supervisor for my graduation paper and mentor for my first real-life job, acted as a "lighthouse" for me whenever I felt overwhelmed in my educational and professional adventures.
Even now, almost a decade after my graduation, Deree feels like a safe educational nest that I can always turn to for advice and support. I know that the above might sound like a paid advertisement, but they all hold true and that's Deree's real value to me as person.
Q.: Volunteer4Greece links non-profit organizations with a volunteer base; can you tell us a little bit more about the organization and its actions?
Volunteer4Greece (V4G) is a Greek non-profit organization established in 2013. It was initially funded by the Stavros Niarchos Foundation and continued its operations with a following grant by the EEA Grants, operating in Greece by the Bodossaki Foundation.
V4G's main purpose is to bridge the communication between non-profit organizations and volunteer groups consisting of people who wish to voluntarily offer their time, energy, and skills.
V4G's action areas are:
Connecting volunteers with Greek non-profits via the volunteer job site : volunteer4greece.gr
Organizing continuing education programs for non-profit executives/managers/members
Running corporate volunteering programs
V4G is also responding to the current social needs in regard to the refugee crisis, by actively supporting non-profits and NGOs that assist the refugees arriving in Greece. You can find out more at Volunteer4Greece refugee actions.
Q.: What is the most important thing you want people to know about volunteerism?
That they should try it out. It will help them open up to new ideas, and will connect them to humanitarian causes or efforts that are close to their heart in the most practical and meaningful way. Having in mind that whatever happens to a person in need could have just as easily happened to any one of us, it becomes much easier to let go of preconceptions and simply go out, offer your time or skills, or whatever each of us can.