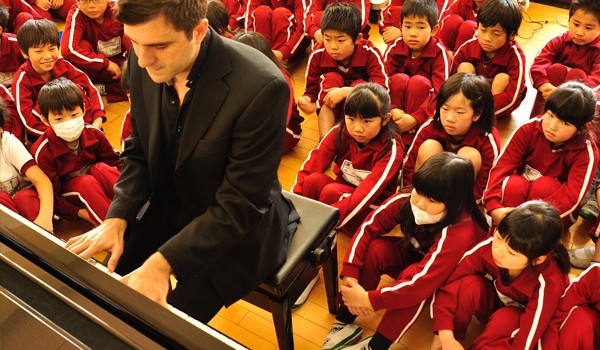 Panos Karan (Pierce '00), a distinguished concert pianist, is the founder of Keys of Change, a charity established in 2011 to improve the lives of children and young people around the world through musical education and access to live classical music performances.
Among the organization's many projects, Keys of Change established the Fukushima Youth Sinfonietta , an orchestra of students from 10 Fukushima high schools and middle schools. This courageous ensemble of young musicians has been a vehicle of resilience and recovery for the people of Fukushima whose region was devastated by a nuclear disaster caused by a tsunami in April 2011.
"Classical music can be enjoyed as much on the banks of the Amazon river and the slums of Sierra Leone as on the stage of Carnegie Hall or Southbank Centre" Karan says. "It is one of the simplest yet strongest ways for individuals around the world to build bridges for peace and make a positive social change."
The Fukushima Youth Sinfonietta  has been invited to perform at the famed Boston Symphony Hall on Sunday, April 3, 2016.
On the occasion of this event, ACG's Office of Development and Alumni Relations, in collaboration with the Consulate General of Greece in Boston are delighted to invite alumni from the Greater Boston area to attend a private reception, that will take place prior to the concert.
The orchestra's visit to Boston is organized by the Japan Society of Boston, with the cooperation of the Boston Symphony Orchestra, Keys of Change, and the Consulate General of Japan in Boston, and will commemorate the 5th anniversary of the disaster of 2011.
Find out more about the Keys of Change charity. You can also get to know Panos better from his inspiring ACG success story, or from his official site.