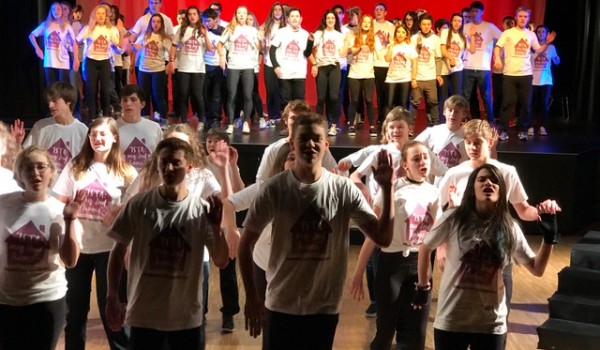 Life is a Cabaret
On Thursday, January 26, a team of Pierce students flew to Frankfurt, Germany, to take part in the festival of ISTA (International Schools Theatre Association) that run this year with the theme "Life is a Cabaret.". The Festival had a multinational character, hosting schools from all over the world – including Russia, the U.K., Germany, Switzerland, the U.S., Portugal, and Turkey – and the students were hosted in the homes of students from the Frankfurt International School, this year's festival host.
Our students Nena Andreou, Michael Varvoglis, Magda Vlachou, Christiana Dionisopoulou, Alexia Theodoropoulou, Roxanne Kaloura, Mariam Noungala, Maria Papanastasiou, Dimos Kaldis, and Youli Tiligada had the opportunity to meet and work with students from other countries, holding discussions about art and culture through theatrical games and various artistic activities.
In the past, cabaret entertainment centers were the heart of all sorts of political and artistic underground movements in Germany as it was defined by political satire and commentary. In its traditional form, the cabaret artists examine difficult – and often banned – political and social issues by employing cynicism, sarcasm, and irony.
During the ISTA festival in Frankfurt, students produced an own underground theater using a variety of comedy, imitation, singing, and dancing. Watch the 2016 ISTA Festival performance here!
About ISTA
The International Schools Theatre Association is "an international arts organization. A community of young people, teachers and artists. A registered charity based in the South West of England. Committed to providing high quality experiences that develop creative learning and internationalism through theatre." In this context, ISTA produces over 50 international cultural events every year for young people, teachers, and artists, while offering continuous professional development to both teachers and artists.
Pierce – The American College of Greece has been a member of ISTA since 2013, and has taken part in several festivals across the years, and Pierce was honored to host the ISTA Festival in Greece for the first time in May of 2015, where 100 students from 7 schools and 5 countries participated in the four-day creative festival.