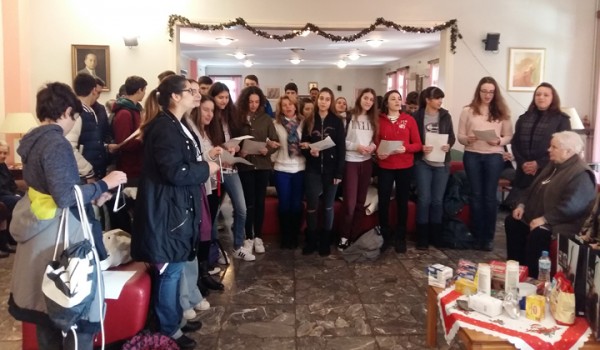 In mid-December of 2016, Pierce students of the C class Gymnasium (Γ΄1) visited the Elderly Nursing Home of Athens (Γηροκομείο της Αθήνας). This was a community initiative organized by the Pierce Student Communities with the support of the ACG Office of Development and Alumni, as part of the ACG's continuous presence in volunteer initiatives.
Since its establishment in 1864, the nursing home has provided charitable contribution, easing the pain of many generations of Greeks, and protecting them from persecutions, wars, the German Occupation, famine, and civil war. Throughout its long history, the home has taken a plethora of actions, showing undeniable evidence of a strong sense of social responsibility.
Today, the purpose of the Elderly Nursing Home of Athens is to accommodate elderly people who are either in need of medical supervision or unable to cover their living expenses. The home receives no funding from the State, and, as such, is self-governed by a volunteer Board of Directors; its resources mainly come from benefactor donations, membership subscriptions, and the symbolic fees of financially able elderly people who can cover a portion of the living costs. Currently, it is home to 112 elderly people who would be hospitalized, provided they had the resources.
Pierce 1976 alumna Eni Prastakou, recently appointed President of the Board, along with the staff and supervisors of the Elderly Nursing Home of Athens, wholeheartedly welcomed our students and their class councilor, Athina Panagiotopoulou, as well as Maria Laina, Executive Director of ACG Development & Alumni Relations. Our alumna Eni Prastakou gave a motivating speech and… the Christmas spirit shone even brighter! The residents and our students sang along to Christmas carols and played uplifting tunes on the piano. Later on in the day, the class offered the residents sweet gifts – biscuits and smiles – as well as much-needed items, such as food and hygiene products they had collected.
The students listened to stories told by the residents, laughed and socialized, showed affection, care, and respect. At the end of the trip, the class thanked the residents and staff for their hospitality and left the nursing home feeling, "their hearts and minds full of beautiful emotions, with memories to cherish," complemented by their renewed faith in the College's mission and age-old motto: Non ministrari, sed ministrare; to serve, not to be served.
[PHOTOS in text]