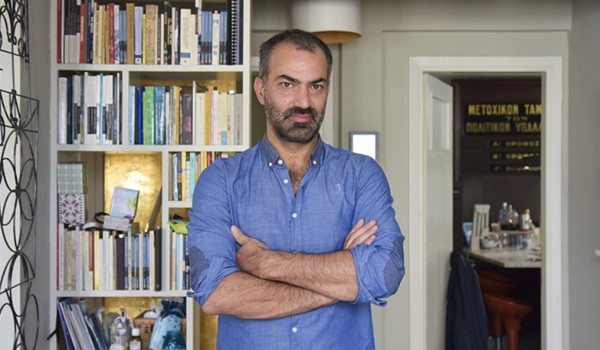 Dionisis Christofilogiannis, artist and Visual Arts instructor at Deree, recently took part in the Benaki Museum's exhibition [OUT] TOPIAS: Performance and public / outdoor space with his work Afterlife. The exhibition was curated by Dr. Thanos Vovolis, Deree Professor, with the aim to "attempt a new verge on the outdoors, the public space, focusing on the core concept that every space is potentially a performance."
Dr. Christofilogiannis talked to Proto Thema about his participation in the exhibition and about the piece Afterlife, which was an opportunity for him to redefine himself as an artist. The artwork utilizes a sculpture of the ancient Greek Kouros of Volomandras and "a primitive funeral ritual toward the end of life, using the purifying elements of fire and sea".
"The Kouros is denatured and transcribed at the same time, both as the signifier and the signified." The lace, a material that is definitive of the artist's work, is placed over the Kouros like a shroud and works as a metaphor of the negative while it burns and turns from white to black. Pieces of it are removed by combustion while others are kept as a velvety skin on the Kouros' body.
What the artist wanted to highlight is the removal of shapes and pure forms, leaving the body worn, damaged, and burnt. The "regeneration" of the sculpture and its burning, is something that "described the now, and cannot be repeated anymore" Dr. Christofilogiannis says, alluring to Wassily Kandinsky's The Spiritual in Art.
Read the full interview (in Greek), and find more information on the [OUT] TOPIAS exhibition, here.
About the Author
Dionisis Christofilogiannis is an artist and Visual Arts instructor at Deree's Frances Rich School of Fine & Performing Arts, with an expansive educational background: PhD and MA in Fine Arts, Technical University of Cluj-Napoca, Romania; MSc in Industrial Design, Strathclyde University, Scotland; and a BA (Hons) in Mechanical Engineering, Sheffield Hallam University, UK.
He has held many significant solo and group exhibitions as an artist – including in Athens, Thessaloniki, Tokyo, Berlin, and Tirana – and has also worked as a set designer at the Romania National Theaters of Timisoara, Cluj Napoca, Braila with Razvan Mazilu, and in the National Theater of Athens with Robert Wilson.