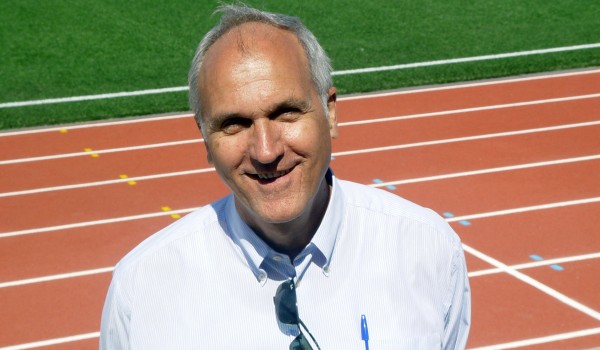 It is with great sadness that we inform you of the sudden loss of Arthur Christopher, our dearly beloved former colleague and 25-Year Associates member, who passed away on Sunday, March 5, 2017, in his hometown of Beverly, Massachusetts.
Mr. Christopher was born in Beverly, MA on February 14, 1945. He graduated from Beverly High School, Class of 1963, and earned his degree from Northeastern University in Boston.  Following his graduation, he went on to play and coach basketball in Greece for several years.
Arthur Christopher served ACG with tremendous devotion for 39 years. He joined The American College of Greece on October 2, 1972, as a Physical Education instructor and Athletic Director of the Upper Division of Pierce College. He offered his services to the Office of Athletics as Executive Director until December 31, 2011, at which point he retired and returned home to the United States.
Under his direction and guidance, Deree Athletics created the outstanding and exemplary athletic programs which continue to the present day, and will continue into the future. His accomplishments include the development of 7 intercollegiate athletic teams, the Intramural Program, the Recreational Clubs, a fully equipped Fitness Center, the outdoor athletic facilities, and the participation of Deree teams in national and international tournaments. Arthur Christopher also played a major role in creating a budding wellness program, and running successful Summer Camps.
Former alumni athletes with Coach Christopher in April of 2016, celebrating the naming of the Deree basketball court after him. From left to right: (front) Dimitris Valetopoulos, Antonis Terzis, Claudia Carydis, Arthur Christopher, Loukia Karakassoglou, Thanasis Gyftakis, Michael Sorros, (back) Spyros Tranos, George Melissourgos
Arthur Christopher was a man of high integrity and ethos, a precious life-long mentor to those of us who were privileged to have known him from our student years. He hated being "mellow," yet he always showed sincere interest and affection to us all in his own special way. He shaped us, helping us not just become better athletes, but mostly,  better human beings! I know I speak on behalf of all my fellow Deree alumni when I say: We will miss you Coach!
Claudia Carydis, Vice President, Public Affairs
He was a person of high integrity with moral values that are hard to find nowadays. Arthur had a clever sense of humor, and was very protective and caring towards his staff. As a coach, he was ahead of his time, and played with today's standards, giving emphasis to defense and organized offense. He followed the College's motto "Non ministrari, sed ministrare," with precision and passion.
Theodore Priskomatis, Director of Athletics
Please join us in extending our deepest condolences to the family and loved ones of our dearly departed and deeply admired colleague.