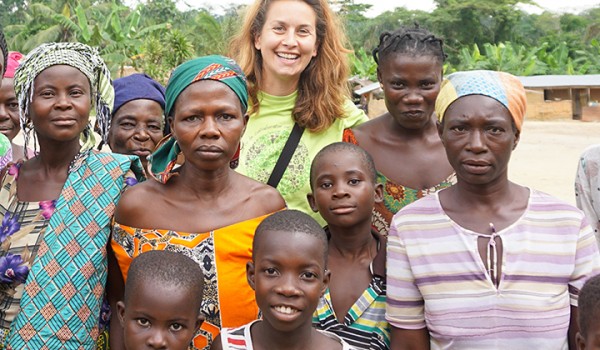 Microsfere is a non-profit and apolitical NGO that works exclusively in rural areas in West Africa. It was founded in 2007 by Deree 1993 alumna Mariella Fourli, to support rural development and biodiversity conservation in developing countries, aiming to improve the livelihood of rural communities living around protected areas, in an effort to decrease their dependence on protected resources, and thus contribute to biodiversity conservation.
Microsfere's first two projects are in the Kakum National Park and the Amansuri Wetland in Ghana, West Africa. Ghana was chosen for a variety of reasons: it is politically and economically stable; a high percentage of its population lives below poverty levels; the southern part of the country is one of the world's 36 biodiversity hotspots, and has a presence of reliable national partners.
The projects proposed by Microsfere allow the beneficiaries to develop their small-scale commercial or agricultural activities, and to increase their capacity-building and self-esteem, while at the same time protecting their environment and improving their living conditions. The NGO implements a set of complementary actions in order to meet its objectives, including: social microfinance, business and technical training, promotion of pilot micro-enterprises, introduction of improved cook stoves, establishment of children's libraries, and community education on health and environment. A particular success of the organization was the 2015-2016 Gas Cook Stove Project, which introduced clean energy sources to 70 households which now have efficient, clean, and easy to use cook stoves which not only have health benefits for the people in the households but clear benefits for the environment as well.
Microsfere aims to remain in the areas it is currently working in, and introduce new projects there. Mariella stresses that "small means flexible," and this is something this organization wants to maintain. Despite their small size, they have made a positive impact on the lives of more than 500 beneficiaries. For example, after receiving help, Cecilia, Adua, and Peter have increased their business revenue and are now able to feed their families well, pay their children's school fees, improve their housing conditions, and have gained a better understanding of several environmental and health issues. You can find more success stories of Microsfere beneficiaries here.
About Mariella Fourli
Mariella graduated from Deree with a Bachelor of Science in Economics in 1993, and furthered her studies with an MSc in Natural Resource Economics at Cornell University. The alumna has since put her knowledge to use through her professional experience in management of protected areas in developing countries.
As the founder of Microsfere, Mariella's role is to identify the target areas and reliable local partners, and seek the required funding. It also involves setting up the entire field team (2 local coordinators and 10 community agents), organizing the logistics and also drafting and negotiating the MOUs with all the local partners. Now, as project director, she continues doing most of the above, in addition to monitoring the evolution of the projects.
In parallel, she works as an independent consultant for international institutions, such as the European Commission, for issues related to biodiversity conservation.
Find out more about Microsfere, and follow them on Facebook to support them and stay up to date with the NGO's incredible contribution to the world!