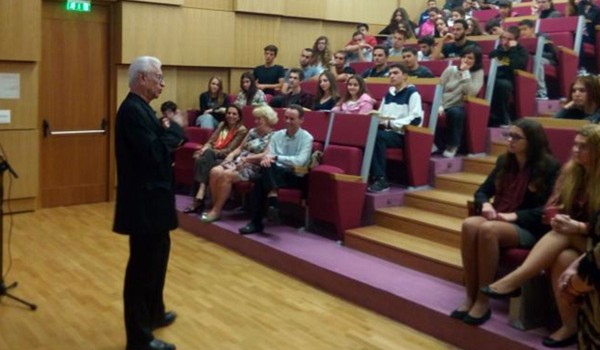 On November 24, ACG was honored to host Greek Astrophysicist Dr. Stamatios M. Krimizis. His visit, organized by the MIT Club of Greece and in the context of the celebration of 140 years of The American College of Greece, was an incredible opportunity for PIERCE and DEREE students to reflect on the world's greatest mysteries, through the eyes of a world-renowned scientist.
Dr. Krimizis is head emeritus of the Space Department Applied Physics Laboratory at Johns Hopkins University Laurel. He holds the Chair of Science of Space of the Academy of Athens, and he is also the president of the Greek National Council for Research and Technology.
During his speech "From Earth to the Galaxy: The Voyager's 38-Year Journey into Space", Dr. Krimizis referred to the travels of the Voyager space probes, to past and future scientific experiments, the new programs, missions, and expeditions that are planned, and the Pluto flyby that happened in July 2015.
He also discussed the Sun, Mars, and the other planets of our solar system, ending his exciting presentation with a message of warning, but also of hope: In the coming years, Earth will remain our planet and our home as we have no way to reach and colonize other planets yet; we must preserve it for our children and for future generations.