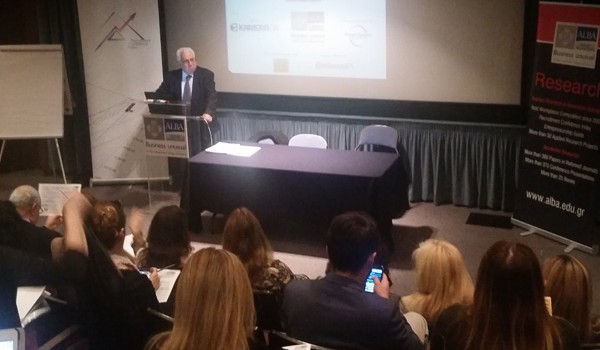 Family Business Tradition and Innovation
The ALBA Hub for Enterprise and Development organized the first event of the new series titled "Family Business Tradition and Innovation" on December 16, 2015. This new initiative aims to showcase how family businesses can build on their tradition in order to ensure longevity.
With each event drawing input from a specific sector, the series kicked off with the Greek winemaking industry. Dina Spiropoulou from Domaine Spiropoulos in Mantinia, Stellios Boutaris from the Kir-Yianni Estate in Naoussa, and Antonis Dourakis from the Dourakis winery in Crete, shared their experience, insight, and advice with a mixed audience of family business owners, wine makers, students, and journalists.
The discussion was facilitated by Vice President of the International Federation of Wine and Spirit Journalists and Writers, wine journalist and blogger, Theodoros Lelekas.
The RCI annual event
The RCI (Recruitment Confidence Index) annual event was organized as an interactive workshop on "Social Responsibility: Generosity vs Authenticity" which was held at ALBA in December.
Over 60 participants – HR executives and CSR managers – had the opportunity to share their ideas and opinions on the results of the extra theme of the RCI survey questionnaire (CSR). Participants were divided into two workshop streams, where they discussed workshop topics. Ideas and opinions were collected by the facilitators, and shared with all at the end of the event.
Sponsored by Continental, the 2015 RCI event was conducted with the support of kariera.gr, Global Sustain as the supporter of the survey special theme, and HR Professional as the communication sponsor.