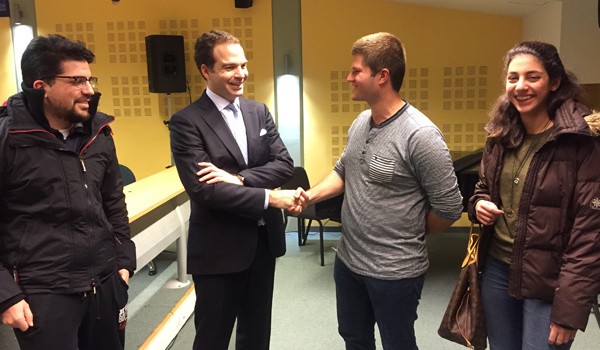 On Wednesday January 27, a packed 6th Level Auditorium welcomed Epaminondas Farmakis, Managing Director of SolidarityNow (SN), for a lecture on "Global Philanthropy and the role of non-profit organizations," in the context of the Deree Senior Class Giving Campaign 2016.
SolidarityNow is a Greek non-profit organization, established in 2013 by the Open Society Foundations (OSF) in response to the increasingly devastating effects of the crisis. The organization's mission is primarily to provide relief services to those most affected and, in this context, it has opened two solidarity centers in Thessaloniki and Athens; safe-houses for anyone in need of refuge. The non-profit is now in the process of setting up a new center in Lesvos to accommodate 1,000 people.
SN also aims to strengthen the collaboration between NGOs, non-profits, and local grassroots initiatives, and is currently working with about 70 other organizations in Greece on multiple projects.
The third tier of SN's mission is to raise awareness, in order for the EU to recognize the current refugee crisis as a European problem. It is vital that collective action be taken and awareness be continually raised, as this crisis goes beyond the extensive displacement of refugees. The speaker highlighted the increasing numbers of unaccompanied minors, cases of sex and organ trafficking, and a surge in racism and hostility seen in the European population.
"What we see in Europe is fear and extremism taking over," Mr. Farmakis said, expressing his hope that severe policies gaining ground across EU member countries will not be long-term ones. This crisis needs to be addressed globally and collectively, with a resounding and unified voice in defense of human rights.
In the context of the Deree Senior Class Giving Campaign and the College's philanthropic legacy, Mr. Farmakis emphasized the importance of students getting involved by advocating for philanthropy and volunteerism, and by providing solidarity. He also explained that at this point our efforts as a society need to go beyond grants, and instead, deploy a variety of new financial tools for promoting social purposes such as loans, equity-type investments, and social impact bonds. Though Greece might not be ready for these steps yet, the powerful ACG student and alumni network can considerably help in setting up the foundations for such integral actions.
Responding to one of the many on-point topics raised by the audience, the speaker noted that there is a significant difference between philanthropy and developmental help. Mr. Farmakis stressed that it is imperative that we not only help, but empower individuals. The key is to achieve a balance between initial philanthropy and gradual developmental help; from soup kitchens to providing social housing, for example.
In regard to enabling students to be part of the solution, he said that volunteering is truly of enormous help to NGOs, but also an invaluable experience for a student's personal growth. SN also offers internships to students and tries to match work placement opportunities to the interests and passions of each intern.
In the coming months, Claudia Carydis, Vice President of Public Affairs at The American College of Greece and Matilda Chatzipanagiotou, Director of Student Affairs, will visit the SN center in Lesvos in order to identify volunteer opportunities for future ACG initiatives and synergies in support of the SN mission. "This is only the beginning of a fruitful collaboration between SolidarityNow and The American College of Greece," said the VP in her closing remarks.
Find out more about SolidarityNow and how you can help, here.