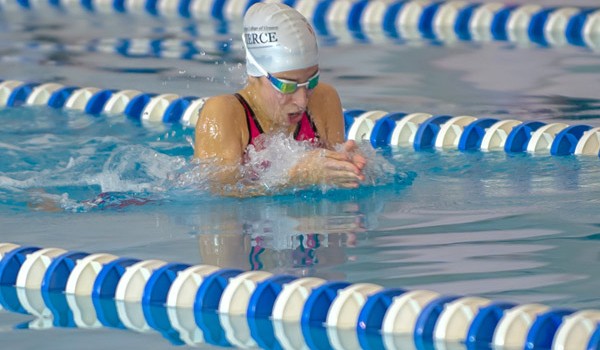 The growing investment by The American College of Greece in athletics and talented student-athletes paid significant dividends during this year's ASIS private middle and high school (Gymnasium and Lyceum) annual swimming competition. The competition was hosted by ACG on January 23.
Pierce – the secondary school division of ACG – won first place in the overall middle and high school categories. Pierce girls earned first place in both categories and Pierce boys second place in the high school category and third place in the middle school category.
270 students representing 18 middle schools, and 120 students representing 12 high schools competed in this year's meet. Besides Pierce, students from Athens College, Tositseia, Kosteas Geitonas, Moraitis, Doukas, Geitonas, Nea Genia Ziridi, Erasmeios, Arsakia, Leonteio of Nea Smyrni, Ellinogermaniki Agogi, Nea Paideia, Avgoulea Linardatou, St. Catherine's, G. Malliara, Erasmeios, the German School of Athens and Ekpaideftiki Anagennisi gave their best in the lanes of ACG's Olympic quality swimming pool, which is covered by a heated air bubble for the winter months.
Continuing the string of successes, The Deree Athletic Club U-13 Girls Swim Team, comprising four Pierce students, broke the Pan-Hellenic record in the 4×100 meters medley relay at the Winter U-13 A'B' Southern Greece Swimming Championship.
The previous record of 4:44.99, had been held for 9 years by ANO Argyroupolis. The team of Ioanna Georgopoulou, Eleni Fouka, Chrisoula Mitsakou, and Danae Kaprini covered the distance in 4:44.14. Of the four Pierce record holders two, Ioanna Georgopoulou and Chrisoula Mitsakou, are recipients of swimming scholarships.
In recent years, Pierce has been extending athletic scholarships to student athletes who fulfil a set of rigorous athletic and academic criteria. Recipients benefit from a 50% tuition reduction and in return enter a rigorous training program run by the Deree Athletic Club under experienced coaches who are specialists in developing emerging talent. Scholarships are offered in swimming, tennis, basketball and track & field.
George Vallas and Sofia Mantaloufa are the Deree Athletic Club's swimming coaches, with Vallas as coordinator, and are credited with preparing the Pierce teams that aced the latest ASIS competition.
ACG has been using its athletic facilities – which are among the best in the region and were used as a training center for the United States Olympic Committee in 2004 – in order to attract a growing number of people who love sports to its campus. It is indicative that membership to the Deree Athletic Club recently surpassed the 1,000-member mark.
Deree Athletic Club Welcomes the New Year
On the same day that Pierce students won first place honors in the swimming lanes, the Deree Athletic Club celebrated the coming of the new year with a traditional pita cutting ceremony at the Deree Gym.
ACG President Dr. David G. Horner and Dr. S. Sue Horner were joined by Mayor Giannis Stathopoulos of Aghia Paraskevi and members of the College's administration in honoring accomplished athletes from the Deree Sports Academies.
Panagiotis Giannakis, an accomplished basketball coach and member of the so-called golden generation of Greek basketball, was honored for his lifelong contributions to the sport.