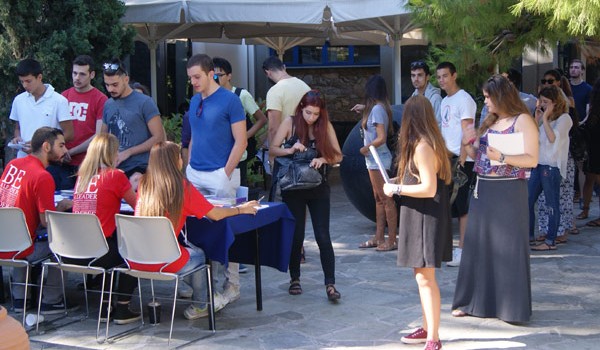 The prolonged economic crisis that has been afflicting Greece for the past seven years has, in a peculiar way, highlighted the relative strengths of The American College of Greece. The college has been experiencing growth in enrollment across all its divisions, secondary, undergraduate and graduate, for the past three years.
The College's non-profit structure, its commitment to quality education, its growing internationalization, and its ability to stay tuned to the actual needs of the job market in Greece and internationally, have enabled it to weather the crisis and grow significantly.
The start of the Spring 2016 semester at Deree, on January 18, saw another increase in new undergraduate students of all categories, with 290 new students entering – an increase of 12.8% compared to last year. It was the third consecutive year of increased enrollment of new students in the spring semester. This latest increase comes on top of a 5.2% increase in new undergraduate students in the Fall 2015 semester vs. the previous year.
Impressively, despite last November's terrorist attacks on Paris, which dampened the growth in the number of students from North America, this category of students increased by 3.6%.
Deree undergraduate enrollment is growing – it is up 13% to 2803 students since 2012 – despite increasingly strict admission standards. The median high school graduation grade of new students entering Deree in Spring 2016 was 17.5/20 and the average 16.9/20. An impressive 39% of Greek new students for Spring 2016 had high school graduation grade of over 18/20, versus 13.6% three years ago.
Pierce enrollment, in the meantime, has grown 60% to 1245 students since 2012, during the worst years of the Greek crisis. Alba enrollment has also grown – by 37% to 512 students – since 2012, the year the graduate business school formed its strategic alliance with The American College of Greece.
It is becoming obvious that the Greek youth and their families are being ever more careful on how they invest in the future through education, while U.S. students are discovering The American College of Greece as a prime study abroad destination.