Blackboard Upgrade – What's New for Instructors
The following new features and enhancements of Blackboard Learn are now available with the
Release 3900.41.0, providing an updated appearance and a better mobile experience.
New look

– Updated colors, fonts and spacing in the Bb user account environment and within the courses.



Important– With this update, you will notice that the colors in your courses are changed. Course themes are no longer be supported by Blackboard Inc., to further enhance consistency across courses for students. It is therefore suggested to choose the Default Course Theme from the palette inside each course.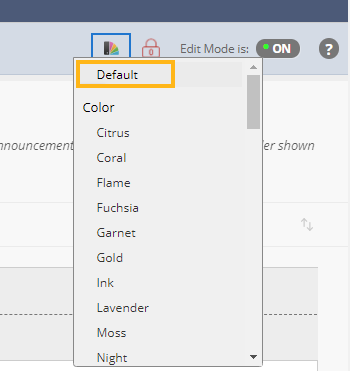 Consistency across devices – Expect a more uniform experience across all your devices. It will now
          be easier to switch from your laptop or computer to your phone or tablet.
           Application Authorization – In the My Institution tab and the Tools module, the Application
           Authorization tool allows users to manage their authorizations to applications integrated with
           Blackboard Learn.
MS Teams integration

 – Online meetings via MS Teams are now accessible from within a Blackboard course. Find detailed instructions on how to set them up in the 

MS Teams page

.
Updated Content Editor

 – Adding content is now easier and it works better with hand-held devices and larger screens. Accessibility has been improved and new features have been added.

The new easy menu is now used for adding content from the computer, cloud storage or   integrated tools. It recognizes all kinds of files one adds.

The editor is better suited for all devices-small screen or big.

Improved Accessibility and a new accessibility checker helps authors make content more accessible.

Better Copy/Paste.

Simple Embed. When pasting links to websites such as YouTube, Vimeo, and Dailymotion, the videos are automatically embedded for inline playback.

Display Computer Code. Authors can now share formatted computer code snippets.

Easy Text Wrapping – Flow text next to images by selecting an image and choosing left or right justification. Text will wrap to the image using the float style which is both mobile responsive and accessible.
Updated email announcements

 – Course email announcements have been updated to include the title and course name in the email subject making it easier to setup rules to organize class emails.
Discussion forum manager icon

 – The manager icon has now been updated to a green rosette symbolizing the manager status of the forum and it replaces the badge icon.
Performance improvements 
– Courses now have improved performance and stability and better 
           notification performance.
Archive and Restore improvements

 – The archive and restore tools have been updated to include user data for dropped (disabled) students.